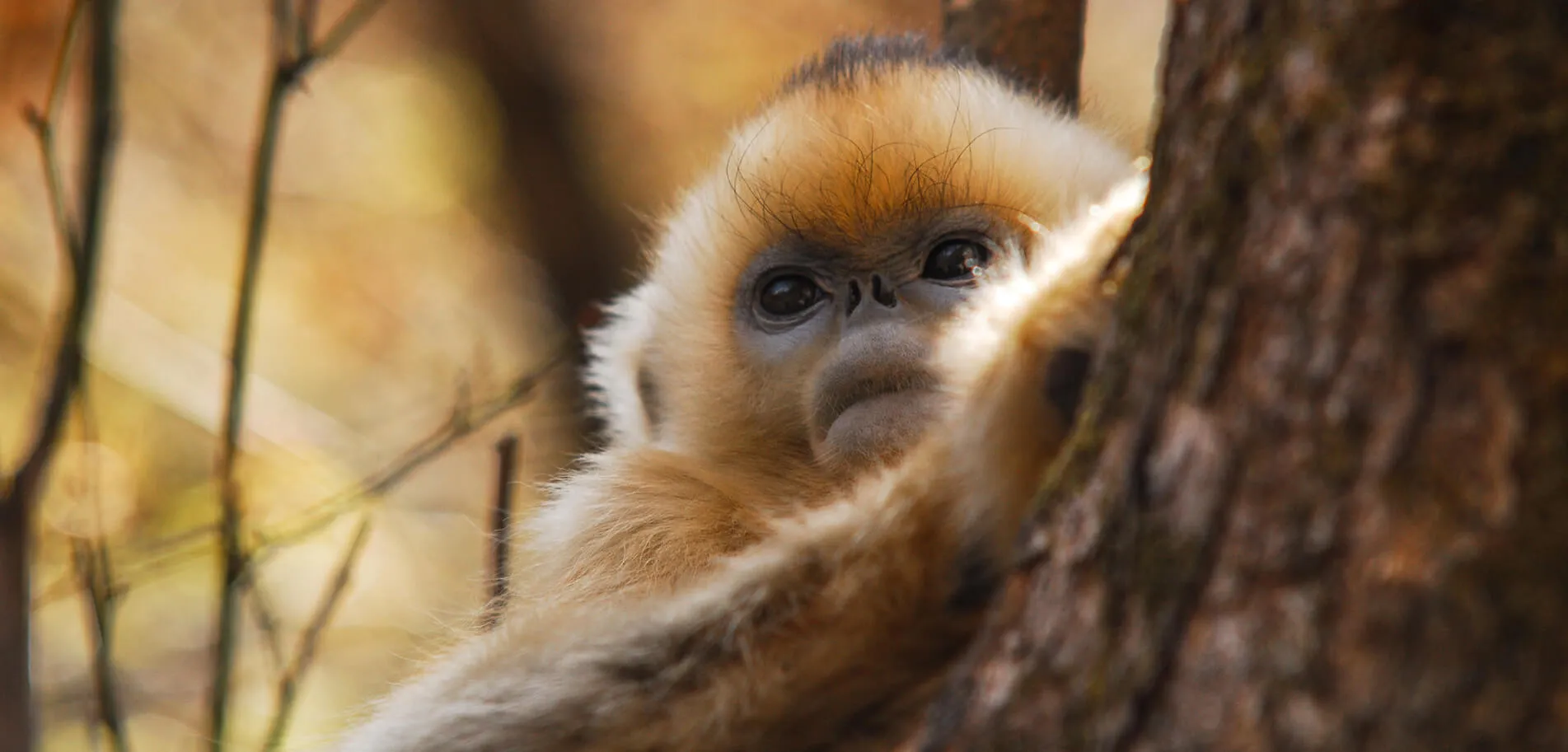 Golden Monkey 2022
Dates
April 8

-

15

| 2022
| S | M | T | W | T | F | S |
| --- | --- | --- | --- | --- | --- | --- |
| | | | 1 | 2 | 3 | 4 |
| 5 | 6 | 7 | 8 | 9 | 10 | 11 |
| 12 | 13 | 14 | 15 | 16 | 17 | 18 |
| 19 | 20 | 21 | 22 | 23 | 24 | 25 |
| 26 | 27 | 28 | 29 | 30 | | |
Why these dates?
From the end of March to the middle of April
is the baby birth time for golden monkeys in
Qinlin Natural Reserve
, and it is also the mating time for other rare wildlife.
Price
USD

2699

per person
Single supplement: $300
Max. number of participants: 8 / Min. number: 4
Included
English-speaking expert photographer guiding
All transportation in the itinerary
Accommodation (comfort or boutique) for 7 nights
Personal processing instructions
Fresh Coffee if outdoor in early morning
Travel Insurrance
Not Included
Flight/train to Taiyuan
Personal expense
All meals (lunch and dinner)
Tips for the guide and driver if satisfied
Instructor: Mercier Zeng
Mercier Zeng designed this itinerary based on years of experience. He will guide the workshop himself.
Mercier has guided 300+ photographers from all over the world, and received over 100 excellent reviews on TripAdvisor. Some photographers traveled with him in Guilin as many as 3 times, or even 5 times. Since 2014, he has been helping beginners and pros to take portfolio shots.
Mercier has traveled to many photography destinations overseas, like Myanmar, Vietnam, Thailand, and New Zealand, to research photographers' needs.
With the aim of photographing rare Chinese wildilfe - 'BIG 4' of Qinling Mountains.
Experience the culture and people's life of Shaanxi and Shanxi.
'BIG 4' are golden monkeys, giant pandas, Asian crested Ibis and takins.
Stay in Taiyuan this day.
Welcoming dinner together. The leader will introduce the photo trip at night in the hotel.
Accommodations | Taiyuan International Hotel
Head to Lijiashan Village in the morning.
Shoot the cave dwelling, which is a kind of very unique architecture in northwest of China, it's the picture of how local people survived in poor and dry land.
Listening the story of the village and people's life nowadays and past.
Accommodations | Best Hotel in the County
Cave dwelling people's life: peanuts drying and basket making by salix monogolica branches
After breakfast, take photos of the Yadan landform in Jingbian wave valley, which is one of the most spectucular wave valley in China.
After hundreds of millions of years of weathering stripping and water erosion, the red sandstone forms isolated peaks and steep rock formations, showing a beautifully colored landscape.
Head to Hukou Waterfall in the afternoon.
Accommodations | Best Hotel in the County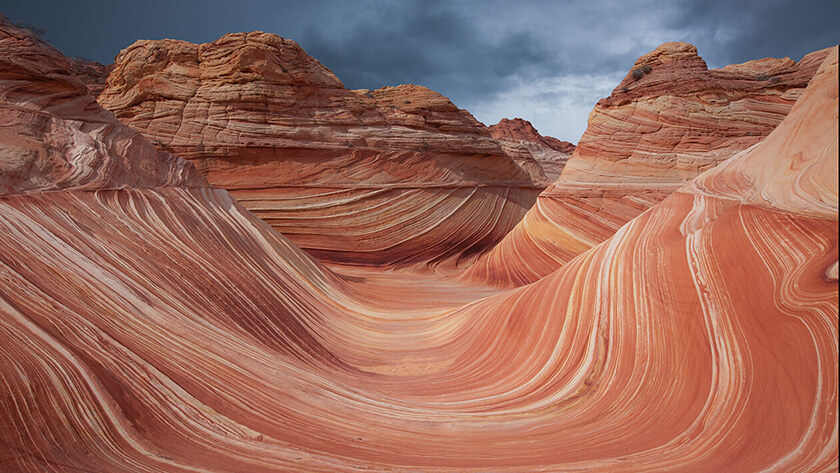 Colorful Yadan Landform
Hukou Waterfall & Ansai Waist Drum Performance
Shoot the Hukou Waterfall in the morning, which is the largest yellow waterfall in the world, because the water bring lots of sand and mud from upper reaches of Loess Plateau, it gets yellow and yellow.
Shoot the Ansai waist drum performance, it is the traditional celebration for Chinese New Year.
A dancer with a red drum tied to his waist holds a drumstick with red silk, beating the drum while dancing. The rhythmical drum sound and graceful dance show the straightforward and uninhibited character of villagers in northern Shanxi Province and is an expression of their happy and passionate feelings.
Accommodations | Best Hotel in the County
Hukou Waterfall
Ansai Waist Drum Performance
After breakfast, go to the Yucha Grand Canyon to shoot Yadan landform, which is the geological wonders deeply hidden in the Loess Plateau. It is also named as 'Antelope Valley' of China.
Heading to Huangling in the late afternoon.
Accommodations | Best Hotel in the County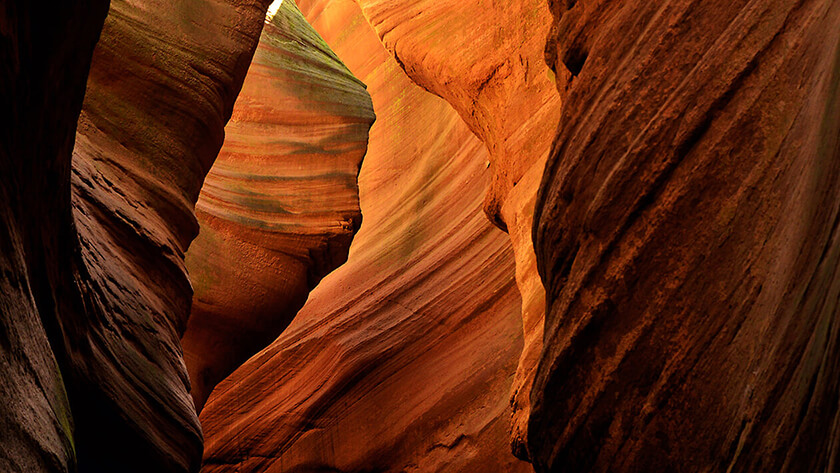 'China Antelope Valley' - Yucha Grand Canyon
Giant Pandas, Golden Monkey
Head to Foping County in Hanzhong in the early morning after breakfast.
The Foping is one of the few remaining places where Giant Pandas still live in the wild, but they are extremely rare and keep to remote, inaccessible upper slopes well out of our reach, so we will focus on Golden Snub-nosed Monkeys instead.
The golden monkeys aren't difficult to find as there is a scientific station in the nature reserve where researchers feed them and they are habituated to people.
In addition to the monkeys, the forest, river valley and cliffs are also excellent places for viewing a variety of differnet bird species such as the Wallcreeper and Forktail.
In the afternoon, photograph rare protected wildlife such as giant pandas in Panda Valley of Foping County.
Accommodations | Best Hotel in the County
Gloden Monkey Running Thru Rocks with Her Baby
Crested Ibis, Golden Monkey, Takins
After breakfast, continue to photograph rare wildlife such as Asian Crested Ibis. There were only 7 left in 1980s, now the number increased to 2000 because of protection and special natural reserve for them.
After lunch, will go to Yang County to shoot golden monkeys and other rare wildlife.
Accommodations | Best Hotel in the County
The Mating Season of Crested Ibis
After breakfast, keep shooting Asian Crested Ibis and other rare animals.
Head to Xi'an after lunch, dismiss and say goodbye.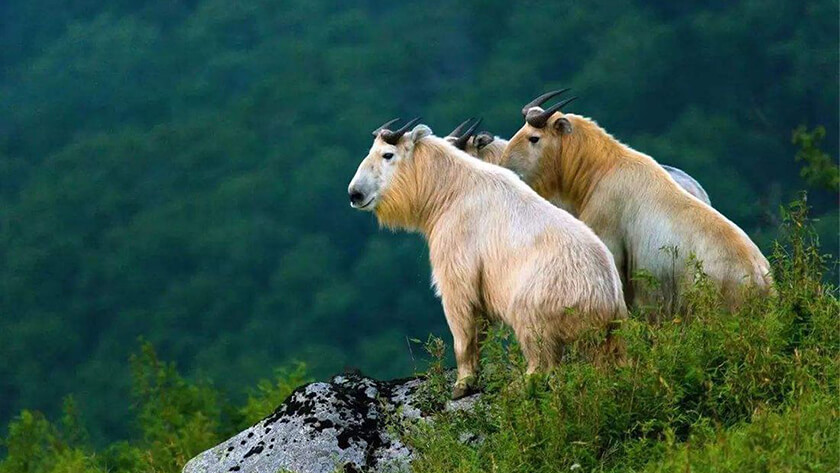 The Takins Family
Booking Policy
Deposit: a non-refundable USD 500 deposit is required to reserve your spot.
Full Payment: required 40 days prior to the start-date of the tour and can be paid by PayPal.
Refund Policy:
- a full refund is available if you can find someone to replace you
- there will be a 50% refund of balance payments on cancellations made less than 30 days before the scheduled date of departure
- a 25% refund between 30 and 15 days prior to the date of departure
- a 10% refund on cancellations made less than 15 days before departure
- the initial deposit will be retained.
Book a Seat
Join the Wishlist
The photo tour is not open for booking yet due to the restriction of foreigners to the natural reserve area. Count you in now and will let me know once it gets possible.