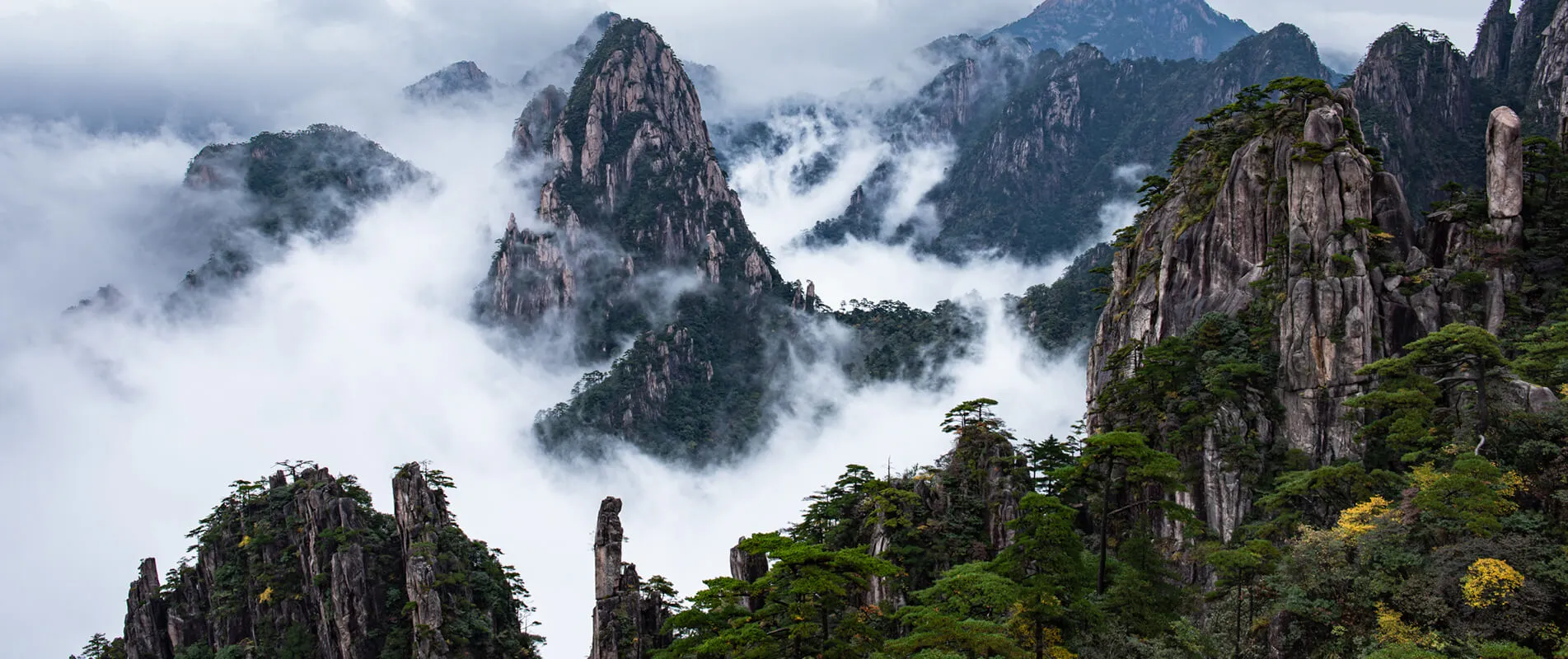 Home
Huangshan Photography Tours
Huangshan is 3 hours by high-speed train from Shanghai. Huangshan photography tours are mostly focused on two areas: the Yellow Mountains, and Xidi and Hongcun ancient villages.
Photographers coming to the Yellow Mountains are inspired by its natural wonders: wind-carved pine trees, breathtaking peaks, amazing seas of cloud, and winter snow scenery.
Not only the spectacular Yellow Mountains are attractive; Xidi and Hongcun ancient villages are famous for their unique architectural styles. Both are listed as UNESCO world heritage locations.
Don't Be Confused Between Huangshan City and the Yellow Mountains
Huangshan is the name of the city, but it is also the Chinese name for Yellow Mountains.
The mountains are more famous than the city itself. When people say 'I'm going to visit Huangshan', they're usually talking about the Yellow Mountains.
To distinguish the different names, more people have been using 'Tunxi', the main district in the city, as the city name.
Best Photography Sites at the Yellow Mountains
Sunrise: Lion Peak, Purple Cloud Peak, Bright Summit
Sunset: Dispelling Cloud Pavilion
Sea of Clouds: Jade Screen Pavilion, Refreshing Terrace, White Goose Ridge, Dispelling Cloud Pavilion and Bright Summit
Mountain Peaks: Lotus Peak (the highest), Celestial Capital Peak (the most dangerous), Bright Summit (the flattest), Begin-to-believe Peak, Lion Peak, Jade Screen Peak, Turtle Peak, Purple Cloud Peak
Odd-shaped Pines: Welcoming-Guests Pine (east of Jade Screen Peak), Seeing-Guests-Off Pine (close to Jade Screen Peak), Accompanying-Guests Pine (close to Jade Screen Peak), Double Dragon Pine (at West Cloud Sea), Phoenix Pine (Sea Heart Pavilion), Leading Pine (Begin-to-Believe Peak), and Black Tiger Pine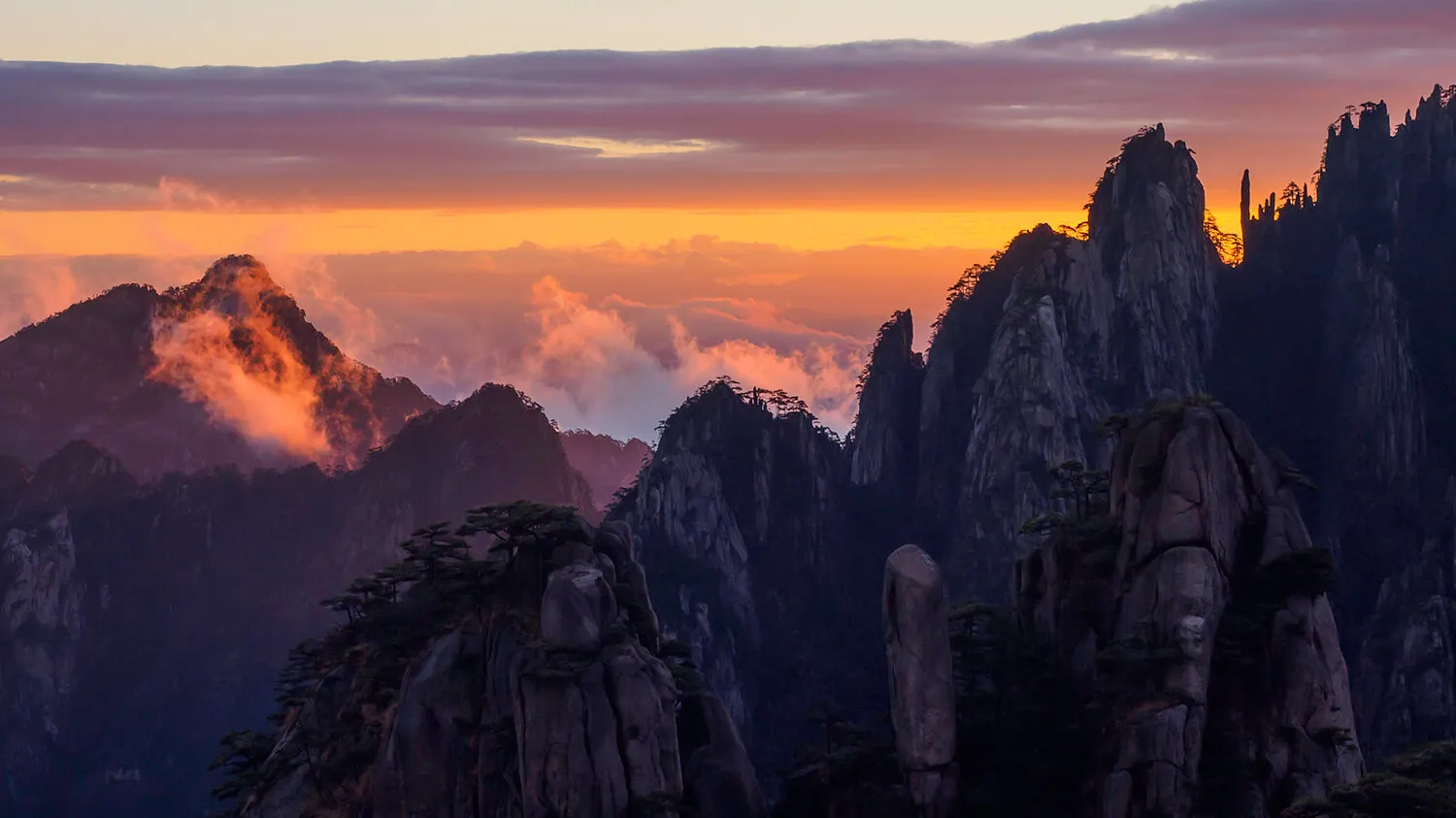 Huangshan Photography Tour Planning
Over 80% of photographers spend 2 full nights at the Yellow Mountains for sunrise and sunset photography, and one full day for ancient villages. If you'd like to capture the spectacular rocks and mountain peaks in mist, or sea of clouds in between peaks, it's better to stay at least 3 nights.
2 days | one night at the mountains - focus on sunrise and sunset + Hongcun village
3 days | 2 nights at the mountains - focus on sunrise and sunset + Xidi and Hongcun villages
4 days | 3 nights at the mountains - cover most of the photography sites at the mountains, including Xidi and Hongcun villages and other hidden sites
5 days | 4 nights at the mountains - 3 sunrises and 3 sunsets, more opportunities to catch good weather
Drone Photography Policy
It is NOT allowed to fly drone in Yellow Mountains scenic area. The security guards will check your bags (no body check) with x-ray machine bofore taking on the cable car, you may be refused to get on cable car unless you give away your drone gears.
Free fly in Hongcun and other ancient villages.
Best Time to Visit Huangshan
The Yellow Mountains are beautiful all year round. For better photography, April to June and September to November are the best times to visit. May to August is the rainy season at the mountains.
February to May is the season for rapeseed-flower photography at Huangshan and Wuyuan. Read more about the best time to visit Yellow Mountains and ancient villages.
Our Elite Photography Guide Team
Our photography guides were born and grew up in Huangshan or nearby, are very familiar with the mountain areas, and have established good relationships with locals. They spend 150+ days at the mountains or ancient villages every year. They know the local weather and culture better than anyone.
Having guided hundreds of tourists and photographers before, our guides can change the itinerary according to the weather and light, to help you get the best shots with the best light.
Suggested Trip
Tailor-making & Private Huangshan Photography Tour
Yellow Mountains + Hongcun Ancient Villages | 1-6 days
View More
What to Photograph in Huangshan?
The Yellow Mountains and ancient Anhui-style villages are two main subjects of Huangshan photography.
There are hundreds of rock peaks and unique-shaped pine trees in the mountains. Take your time and capture your portfolio shots at the right times. The red sun rises between two peaks and pine trees, seas of cloud flood the peaks, with a blood-red glow covering the mountains. We are passionate about these pictures.
Besides unique mountains, ancient villages are another highlight of your Huangshan photography tour. Hongcun and Xidi are two of the most popular places for shooting ancient streets and architecture. You will capture stunning architectural reflections in a lake at Hongcun.
There are almost 150 species of bird at Huangshan. Most have not been affected by tourists or local people. You can come very close to some, with good opportunities for nice photographs.
Even though you are close, of course, you still need a telephoto lens for this, at least 400 mm lenses. You may see rusty laughing thrushes, red-billed leiothrix, slaty buntings, red-billed blue magpies, Eurasian jays, coal tits, yellow-browed warblers, plumbeous water redstarts, and many more.
Huangshan Photography Packing Tips
Packing - You won't be able to take suitcases when you travel to the Yellow Mountains, as you will first take a cable car, then hike and walk up hundreds of steps to your hotels and between photography locations, so your suitcases will be left behind in a hotel downtown or some other safe location we can arrange.
Just bring essential clothing and your camera bag with you. At an extra cost, we can arrange to have cloth bags of your luggage delivered to your hotels at the mountains.
Physical requirements - You will carry your own camera bag and tripod every day, as you may take photos anywhere. Sometimes you will need to walk for over 2 hours, for example to the West Sea Grand Canyon; though getting to some locations only takes 10 to 20 minutes. All locations are connected by well-constructed steps. Good-quality hiking boots will be necessary.
Cameras and lenses - You will need 1 main body camera (actually two cameras work better, last time I was there, I took Nikon D810 and D500 with me, one for wide lens, one for tele lens), wide/medium zoom covers 24 – 70, telephoto lens covers 70 – 200 , 1 spare battery, shutter release cable, spare SD/CF cards.