Photographers' Reviews
Home
Photographers' Reviews to Mercier Zeng
Thank you all guys with such positive and inspired comments, that's the source I'm working on.
Year on Year Winner
Customized Photo Tour and Made a Great Success
I am mostly a people travel photographer and Mercier ensue in my itinerary that I got many opportunities to photograph people and also ensured I got the opportunity to shot the spectacular landscapes of the region...
A Bye-Note - A very positive outcome from my photography tour with Mercier I had one of my Cormorant Fishermen photos featured as one of the top images of the day by the online version of National Geographic
by Stephen from Gibraltar
Help on Composition and Camera Settings
Jack knew the best places to shoot from and advised me on camera settings, where to stand, and what angles to use. He has worked with our models in the past and was very comfortable posing them and preparing me to shoot what they would do next. He was very enthusiastic about the beauty of the places we visited and about capturing that in the photos. I'm not in great physical shape and alot of our destinations involved climbing quite a bit. Jack and our driver, Mr. Lu, watched over me and made sure I made it up and down safely.
by Mary Elizabeth Meade from US
Transparent Pricing and No Hidden Costs
I compared the prices between Mercier and a tour organiser from Singapore (I'm from Singapore), Mercier quotation was more competitive. The itinerary were similar but Mercier is able to accommodate a smaller group compare to the confirmed group of 12 photographers from Singapore. Mercier is also friendly and quick to respond to my queries even before I confirm the booking, he is able to customised and redo the quotation base on the latest itinerary which I find it transparent.
by Justin from Singapore
Above Expectation from Start to Finish
From start to finish, each day was a phenomenal experience. His access to local residents, and hidden local gems for photographers to capture amazing scenery was well above our expectations... We usually travel independently without a tour guide, but know we never would have been able to do half of the sights we saw with Mercier on our own. He is friendly, professional, and offers photographers a unique experience they won't soon forget.
by Jonathan W from US
We Are Happy to Start at 4am and Fishsh at 10pm
It was the best thing we've done in Guilin. Mercier is an excellent guide, totally professional, and guides us to the best spots and gave us the best arrangement. He is totally flexible with our itinerary. Our tour started when he picked us up from our hotel at 4am and finished at 10pm !! Absolutely enjoyed the tour and the breathtaking views that Mercier brought us to.
by Joe from Malaysia
Listening to Photographers' Needs
My wife and I recently returned from our vacation in China which we started off with a photography tour guided by Mercier Zeng. I selected Mercier from a number of other tours because he was the most attentive to my needs and after the tour I was glad I selected Mercier.
He brought us to some very nice locations where he interacted with the locals to provide us with the right environment to take some great pictures. He was always friendly and helpful and offered us several options in response to local conditions. We felt as if we were just visiting with a local friend and you could not ask for more from a guide.
by Dennis from US
Mercier Zeng Is The Reason to Guilin
We were not considering going to the Guilin & Yangshuo area until we seen Mercier on tripadvisor. We checked out his website with his amazing pictures and booked with him for several days. He is very prompt to return our e-mails, speaks excellent English, always on time to pick us up, and we were never rushed.
by John from US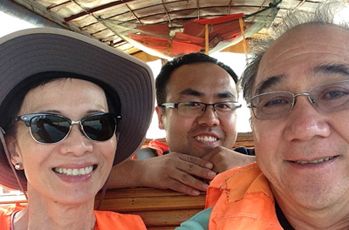 Photo Tour with Mercier to Guilin and Huangshan
We just returned from a photography tour led by Mercier, having spent 3 days with him. We could not have asked for a better guide. From his first email communication, we already had a good impression. Mercier was always prompt in responding. He was patient with the numerous questions we sent his way. He was more than happy to accommodate to our schedule.
We find Mercier to be prompt, professional, courteous, kind and hard-working. We highly recommend his photography tour service. And if he were to offer similar tours in other parts of China, we would book him in a heartbeat. You won't go wrong with Mercier if you want to do a good photography tour!
by Beth from US
3 Times Photo Tour with Mercier Zeng
Having went with Mercier on a photography tour in Guilin, one word describes his service "Excellent!". He is sincere in his service, being a photographer himself, he brought me to places of extreme scenic beauty AND at the same time steer away from many tourist trap. One of my best experience among one of my many overseas travel!
by Roy from Singapore
Twice Booking and Beyond a Guide
This is my second visit to Guilin and Yangshou. I had on my previous visit used Mercier and was very delighted with his services that I decided to use his company again for this visit. Unfortunately Mercier wasn't available on my dates but his colleague, Jack. Jack was really friend and went out of this way to make sure I was taken care of - he even biked ahead in the early hours of the morning (3:30am) with an extra tripod to save the best spot at Xianggong hill before it got too crowded. I recommend anyone who visits Guilin to use Mercier or Jack as their guide - you won't be disappointed.
by Sheldyn from Hong Kong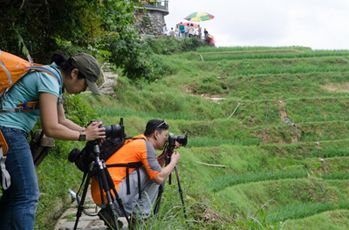 "Fantastic bilingual guide for photography focused trip"
I went to Guilin for a short (2 days), photography-focused trip and was looking for local photographers to bring me to the best sites for landscape photography. I was very happy that I managed to find Mercier, who was very prompt in his responses and also bilingual.
As a photographer, Mercier is very knowledgeable of the great sites around Guilin to take breathtaking shots. As a guide, he was very enthusiastic and shared a lot of interesting information on the city and local culture. If I were to return to Guilin again, I would definitely re-engage Mercier to be my photography guide.
by Wilson from Singapore
Read More Excellent Reviews on Trip Advisor