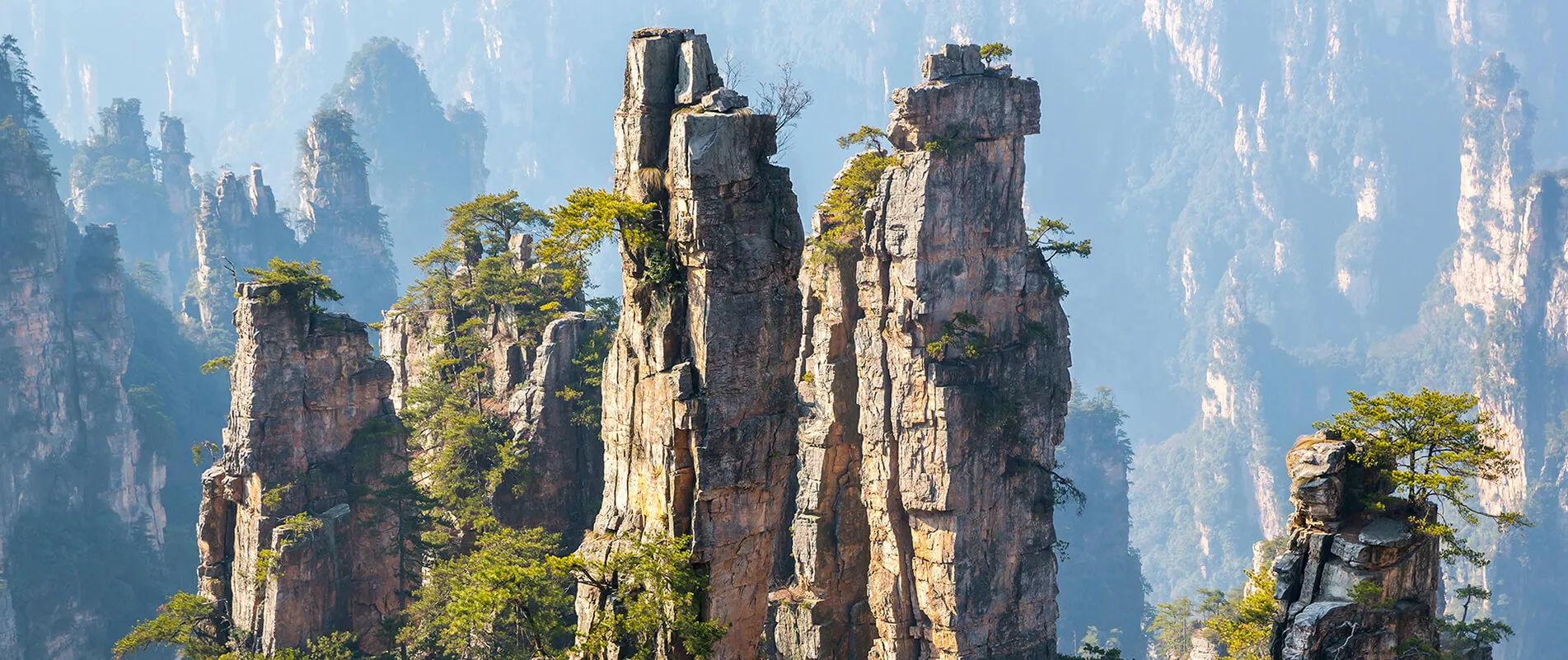 Home
Zhangjiajie Photography Tours
Zhangjiajie is a scenic area in China you may never have heard of, but it has recently grown in prominence because of the movie Avatar. You may still remember the scene with blue people racing on dragons through mists and floating mountains, inspired by "Hallelujah Mountain" in Zhangjiajie National Park.
If you are interested in karst mountains and peaks, spend at least two days here. You will hike 3-4 hours a day to capture various mountain scenes.
Avoid coming in July and August, for there are tens of thousands of tourists then, due to the school summer holiday.
We offer private photography tours to the Wulingyuan area and Tianmen Mountain, guided by experienced local photo experts. We can easily tailor-make such a tour to suit your style or preferences.
We Only Do Photography Tours
LOCAL PHOTOGRAPHY KNOWLEDGE: Our guides live in Zhangjiajie, and work in the mountains 200+ days a year. They know when the sun will shine on which peaks, and what photos can be taken in what season or with whatever weather conditions.
We are not sales people, but photographers. We design photo tours.
Our bread and butter is to set off in the early morning and return after sunset.
Due to limited numbers of photo guides, we are booked up very fast in the high season.
How to Get to Zhangjiajie from Guilin and Other Cities
There are no direct trains or flights between Guilin and Zhangjiajie. The most convenient way to travel is from Guilin to Liuzhou, then on to Zhangjiajie.
First take the high speed train from Guilin to Liuzhou (around 40 minutes). Then take a normal overnight train directly to Zhangjiajie. That takes almost 12 hours, and it's better to book a hard- or soft-sleeper ticket.
There are direct flights connecting Zhangjiajie with Beijing, Shanghai and Xi'an.
Zhangjiajie Photography Tour Ideas
2 days | one night in Wulingyuan - focus on mountain peaks + sunrise in Laowuchang
3 days | 1 night in Wulingyuan & 1 night in downtown - focus on sunrise and sunset + mountains + Tianmen Mountain
4 days | 2 nights in Wulingyuan & 1 night in downtown - cover most of photography sites in mountains + Tianmen Mountain
Suggested Trip
Tailor-making & Private Zhangjiajie Photography Tour
Avatar Mountains + Landscapes | 4 days
View More