Guilin Photography Tours
exploring Guilin mountains and rivers
Home
Guilin Photography Tours
Guilin is well-known for its unique karst mountains along the Li and Yulong Rivers. The landscape along the rivers and mountains looks like it is Chinese scroll paintings come to life.
Photography highlights feature spectacular limestone topography, mist-shrouded mountain peaks, terraced rice paddy fields near tribal villages, water buffalo leisurely eating grass, and photogenic cormorant fishermen.
We provide tailor-made 1-to-1 Guilin photography tours. We can easily design a photography tour for between 1 to 8 days according to your interests, aims and pace.
Our tour can extend to the whole of Guilin, Yangshuo, Xingping, or other ancient towns and villages. We are also familiar with the Longji terraced fields and tribal villages, Chengyang Wind and Rain Bridge in Sanjiang, Huangyao ancient town.
We organize authentic family visits, opportunities for sunrise or sunset shots from little-known mountains, or for unique mountain reflection shots from hidden riverside vantage points. We are continually exploring new locations.
An Old Yao minority couple in their wooden house | Nikon D810 F/2.8 1/100s ISO400 © Mercier Zeng
"
It's a great mixture of people, landscapes, rivers, countryside in the tour and the scene is amazing there. Mercier as a top-photographer knowing about what he's doing and what you need for taking great shots.
"
— Heiner Kraft
Rating: 5 - 130 reviews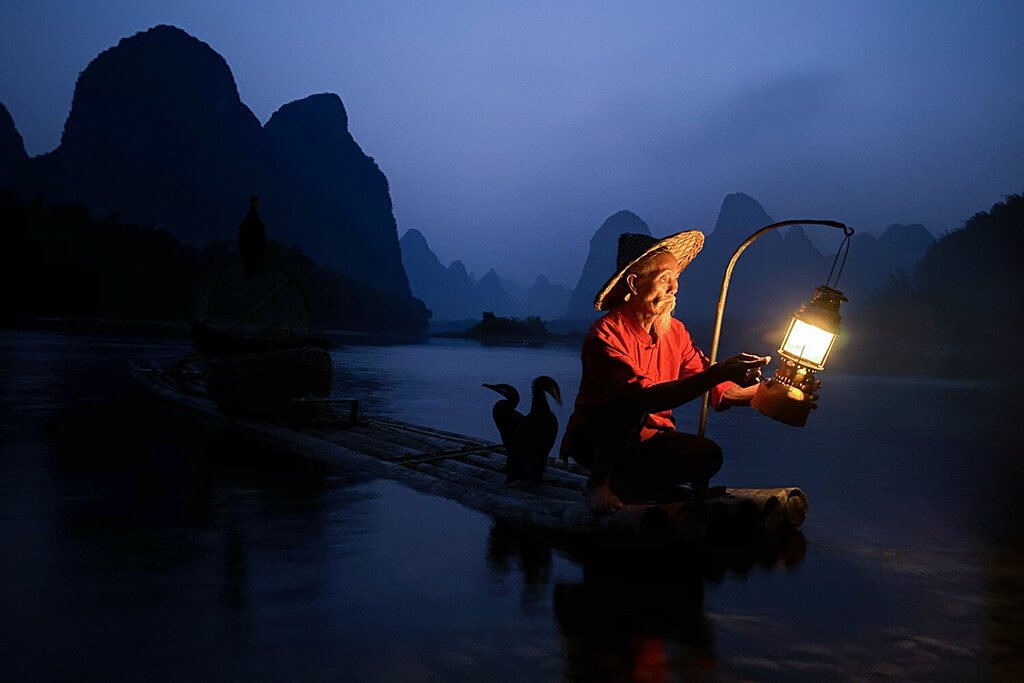 We helped Austin Mann took this photo with iPhone 11 Pro in Night mode in September 2019, the photo was selected by Apple to advertise iPhone 11.
View Austin's Website
View on Apple
Drone Photography Tours in Guilin
There are no strict regulations in Guilin area, spectacular karst mountains along the Li River in Yangshuo and amazing terraced fields in Longji minority tribes, Guilin can be the most ideal place in China for drone photography.
We have many hidden locations and mountains that are not possible to reach, these places that least visited by photographers, just perfect for drone photography.
If necessary, we can also help you to register your drone in China.
The drone view of karst mountains in Guilin | DJI Phantom 4
You'll Be Talking to A Real Photographer
We are photographers. We have traveled to many other countries for photography as well. We understand how important this photo tour is to you. We shall be happy to start at 3 am, climb the mountain at 4:30 am for sunrise, or get down from the sunset mountain at 8 pm.
Our photography guides use Nikon and Canon full-frame cameras. We can arrange photo guides according to your taste. We can help you get great shots based on camera settings and compositions.
Some of our guides go to the mountains 100+ times every year, and meet the cormorant fishermen once or twice a week. We know the sunrise angles at different seasons, so we go to different locations to capture the most photogenic moments.
How to Plan Your Time in Guilin?
1 1 day | classic mountain sunrise + cormorant fishermen at sunset
2 2 days | one day with classic sunrise + cormorant fishermen at sunset; one day in Longji rice terraces;
You can also focus on mountains photography in 2 days, sunrise and sunset in mountains, cormorant fishermen at sunset, people portraits in ancient town
3 3 days | 2 days focus on karst mountains, cormorant fishermen; and one day in Longji rice terraces
4 4 days | Spend two days in Longji for sunrise and sunset over terraced fields; two days on karst mountains sunrise and sunset
5 5 days | If you have 5 or more days, can spend more time to explore the countryside life, buffalo farmers, minority family visits, local markets, etc.
Suggested Guilin Photography Tours
Gain inspiration from a given photography tour or workshop, then use our tailor-making form to design a private Guilin photography tour to match your interests and preferences–or join our workshop. All our photo tours are guided by experienced local English-speaking photographers.
When Is the Best Time to Visit Guilin?
Jan - Apr Rainy Season
May - Oct Best photography time
Nov - Dec Low Season
In theory, May to October is the best time to take a Guilin photography tour. There is less rain and more clear sky, and there are good times to photograph sunrise and sunset over the mountains.
For Longji rice terraces, the best time could be March to June (when the fields are all flooded) or the middle of October (when the rice is all golden). Read more
What to Photograph in Guilin?
If you are a photo-lover, spectacular mountain views at sunrise and sunset, cormorant fishermen on the peaceful river with traditional gas lamps, or the marvelous Longji terraced fields, will satisfy your appetite.
If you come to us wishing to get some good shots for photo contests, we will add more unique photo sessions into the itinerary, such as local family visits, shooting portraits and real-life scenes with natural light in traditional wooden houses. We are friends with these people, and they are happy to share their lives with us.
We would be ready to clear a track over the mountain for unique shots, by cutting bushes with knives.
If you are a beginner, we would also be happy to teach you some tricks. We will give you recommendations about what aperture size, shutter speed and ISO should be used in different conditions. You will bring home some amazing shots, along with newly-honed practical skills.
In the Guilin, Yangshuo and Longji areas, you can shoot the following themes. In Guilin and Yangshuo, mostly landscapes. Cormorant fishermen only operate in the Yangshuo area. Longji is about 2 hours' drive from Guilin, and is famed for beautiful terraced fields.