Longji (Dragon's backbone in Chinese) Rice Terraces, well known for it's unique terraced fields and long-hair Yao minority women.
Here is a mixture of nature and minority culture. You can meet two main minority people in villages.
There are two main minority villages for photography, Dazhai (big tribe in Chinese) village and Ping An village.
Dazhai village, well known for the local long hair Yao minority women, most of women have over 1 meter long back hair. There are over 5 best photography spost with different view. It's good for sunrise photography.
Ping An village is smaller relatively, because of it's unique valley and mountains around, high possibilities to shoot mist surrounding the village after rain.
Best Time For Photography & Two Festivals
From January to the middle of June is the best time to shoot the flooded rice terraces. All rice terraces in Ping An village and part of terraced fields in Dazhai village will be filled of water in this period.
It will be the best time to shoot the golden rice terraces from the middle of September until October 20th before harvesting.
Besides, there are two minority celebrations that you shouldn't miss. Both are good chances for photography and exploring the Zhuang and Yao minority culture.
Shuyang Festival is celebrated in Ping An Zhuang village, the date is the sixth day of the fifth month in Chinese lunar calendar. The exact date of next celebration is June 15, 2022.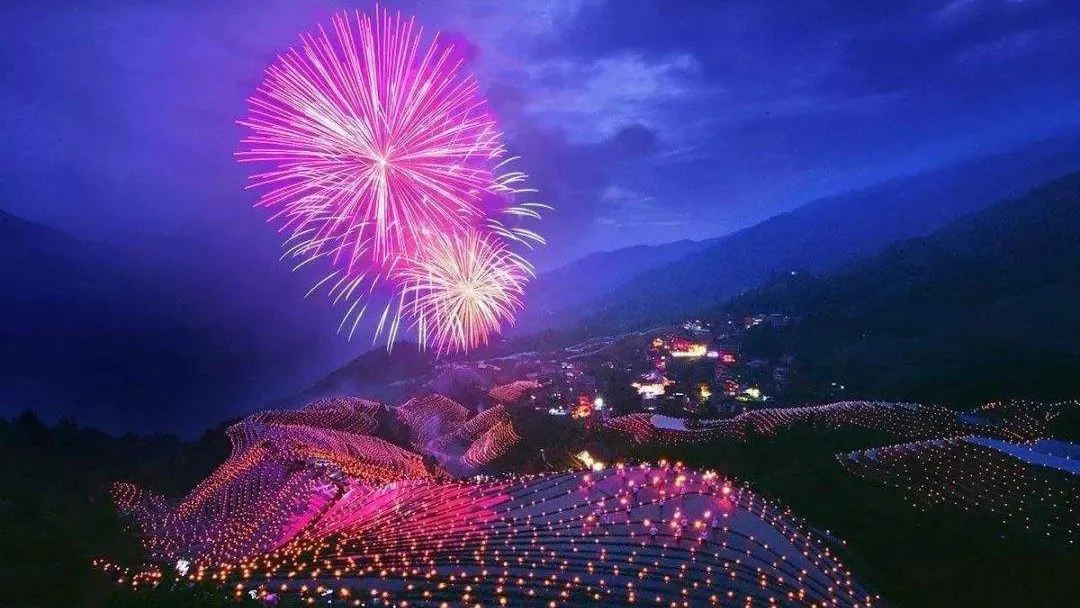 The fireworks show with thousands of candles on paddies at night in Shuyang Festival
Clothes Drying Festival is celebrated in Dazhai Red Yao minority village, the date is the sixed day of the sixed month in lunar calendar. The next celebration is July 15, 2021.
Two Red Yao minority women were drying their traditional clothes in wooden house
Is it worth to stay overnight in the village?
Yes, of course. Especially for photographers.
There are hundreds of hotels and hostels in villages, some hotels are western-friendly with western breakfast, big and clean rooms with rice terraces view, soft mattress and English speaking stuff.
Stay overnight in a hotel located at the top of the mountains, then you have opportunity shoot the sunrise over rice paddies and golden shinning in flooded fields.
What the photos look like in each month?
#1 Longji Rice Terraces in January
It is hardly to see sunrise and sunset in spring because of rainy season. However, clouds and fog in between the mountains and village is a good picture.
#2 Longji Rice Terraces in February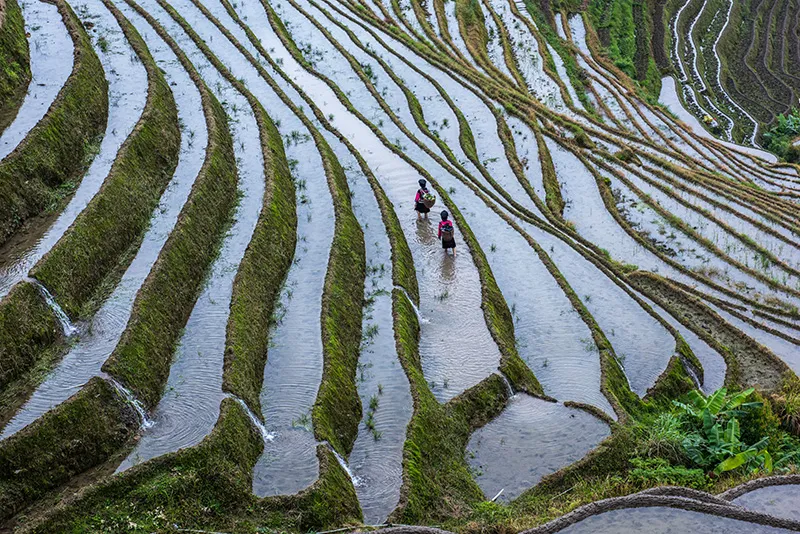 #3 Longji Rice Terraces in March
#4 Longji Rice Terraces in April
#5 Longji Rice Terraces in May
Local people start to clear fields and check the irrigated system. The weather will get better in May.
#6 Longji Rice Terraces in June
#7 Longji Rice Terraces in July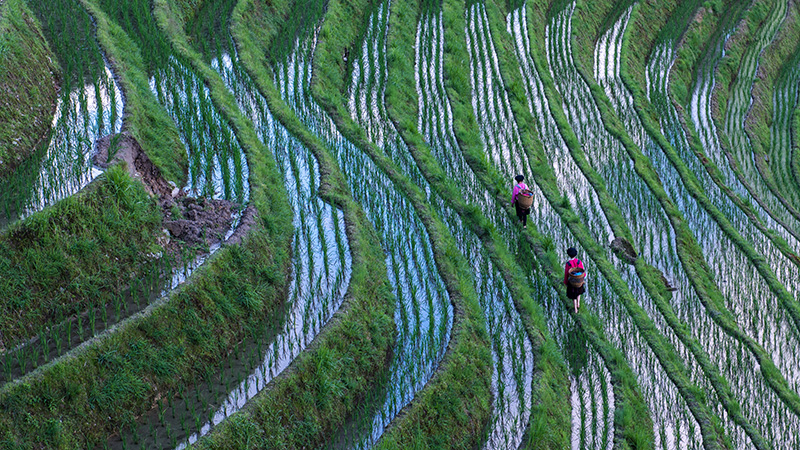 #8 Longji Rice Terraces in August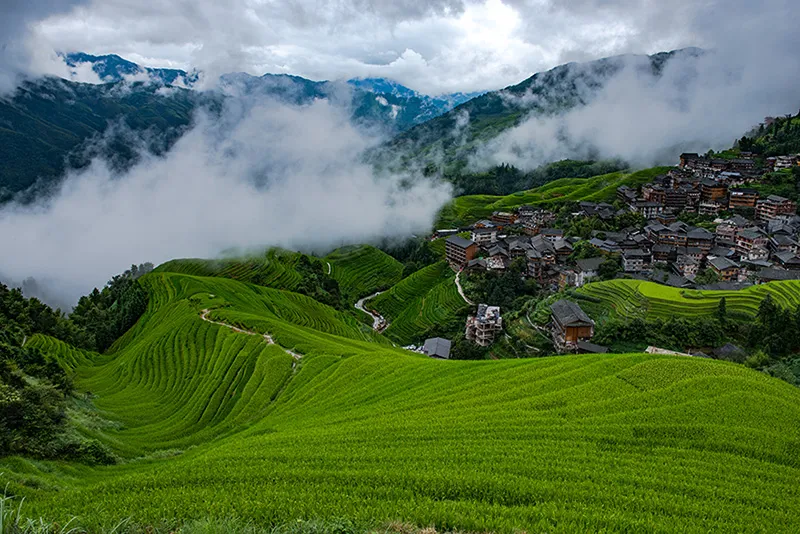 #9 Longji Rice Terraces in September
#10 Longji Rice Terraces in October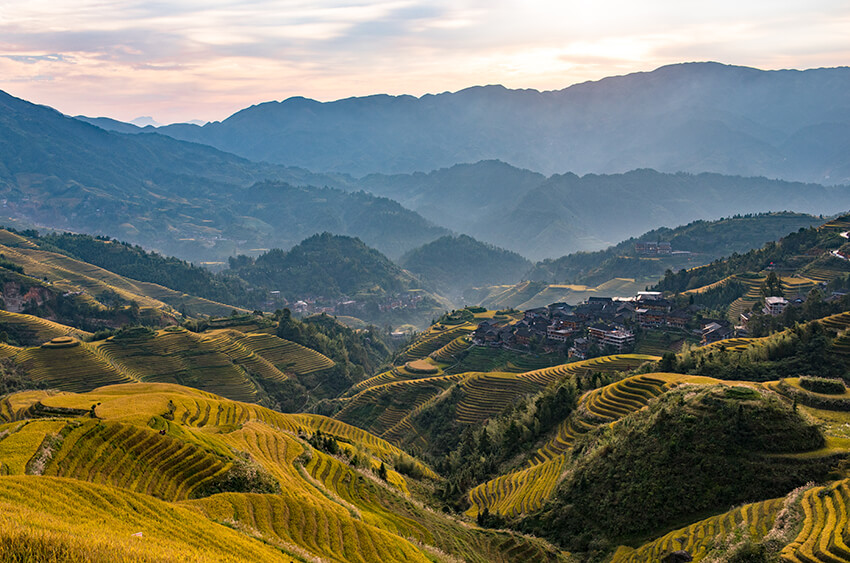 #11 Longji Rice Terraces in November
It's boring to visit rice terraces in November, nothing in fields. No rice and not irrigated yet. Therefore, it is not suggested to travel here in November.
#12 Longji Rice Terraces in December
Minority People - the real host of Longji
The minority women in Dazhai village have long black hair, even 80 years old grandma as below. Wearing the traditional embroidery dress that made by hand.