Why people love to photograph the cormorant fishermen?
Many Chinese landscape paintings or ink paintings have fishermen on it
It is easy to create great photographs by combining fishermen and landscapes.
Many great photography works have been born here, and won awards for shooting the fishermen.
Casting the net in the air, the golden fishing net is very beautiful against the sunrises and sunsets.
The cormorant fishermen with gaslamp at dusk look like a picture under the reflection of a distant mountain.
NET CASTING AT SUNRISE
Is it good to shoot at sunrise or sunset time?
Each has its own merits, in different locations with different scenery.
Many of the masters' blockbusters were shot at sunset.
At sunset
There are more tourists and photographers at sunset location, but they are shooting different fishermen.
In the peak season, many large tourists ships return to Guilin from Yangshuo, and there will be many bamboo rafts roaming nearby, which may destroy the reflection of the mountains and fishermen.
Gas lamp portraits at dusk
At sunrise
Normally, no other photographers or rafts are nearby, less disturb and better for photography.
There are some hidden places, the water is very calm in the early morning, high chance to shoot the amazing reflections of fishermen and mountains.
Net casting at sunrise
Net Reflections over sunrise
Is it better to arrange one fisherman or two?
In most cases, it is better to arrange two cormorant fishermen.
However, there may be many other photographers at sunset location, and it is not easy to find a spacious location for two fishermen.
Two fishermen can be considered at sunrise, because there will be no other photographers or tourists nearby, could get better shots. See my photos as below.
Two fishermen cost more... so on your call!
Net Fishing at Dawn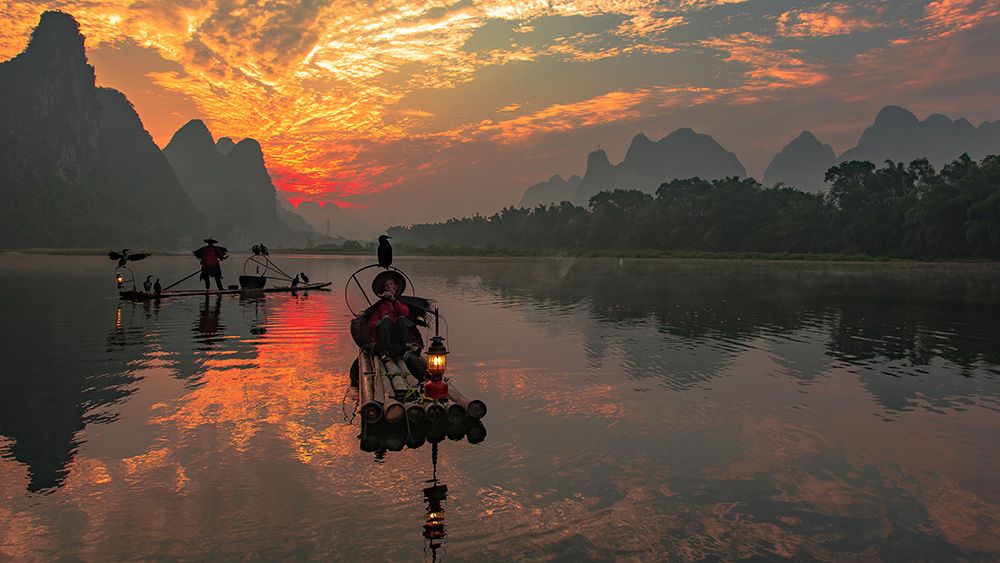 Two Fishermen at Beautiful Glow
Chating at the red Glow
FAQs about cormorant fishermen photography
#1 Is the fishermen photography session private or sharing with others?
It's private, so only you and your guide will be with the fishermen. Although there are some Chinese tourists may come, the guide will try to stop them and give you more space.
#2 Do I have to book the fishermen in advance?
We will hold the fishermen's dates once you confirm with us.
#3 Can I tip the fishermen?
It is not required, we will pay for their time a reasonal price. Of course, if you'd like to help the old fishermen, RMB 50-100 ($10-20) is fine.
#4 Is it a touristy session?
Frankly speaking, it is a little bit, even we are trying to keep it original, however, there are so many photographers coming for this. For photography, it is so dramatic, and all photographers brought home great shots.