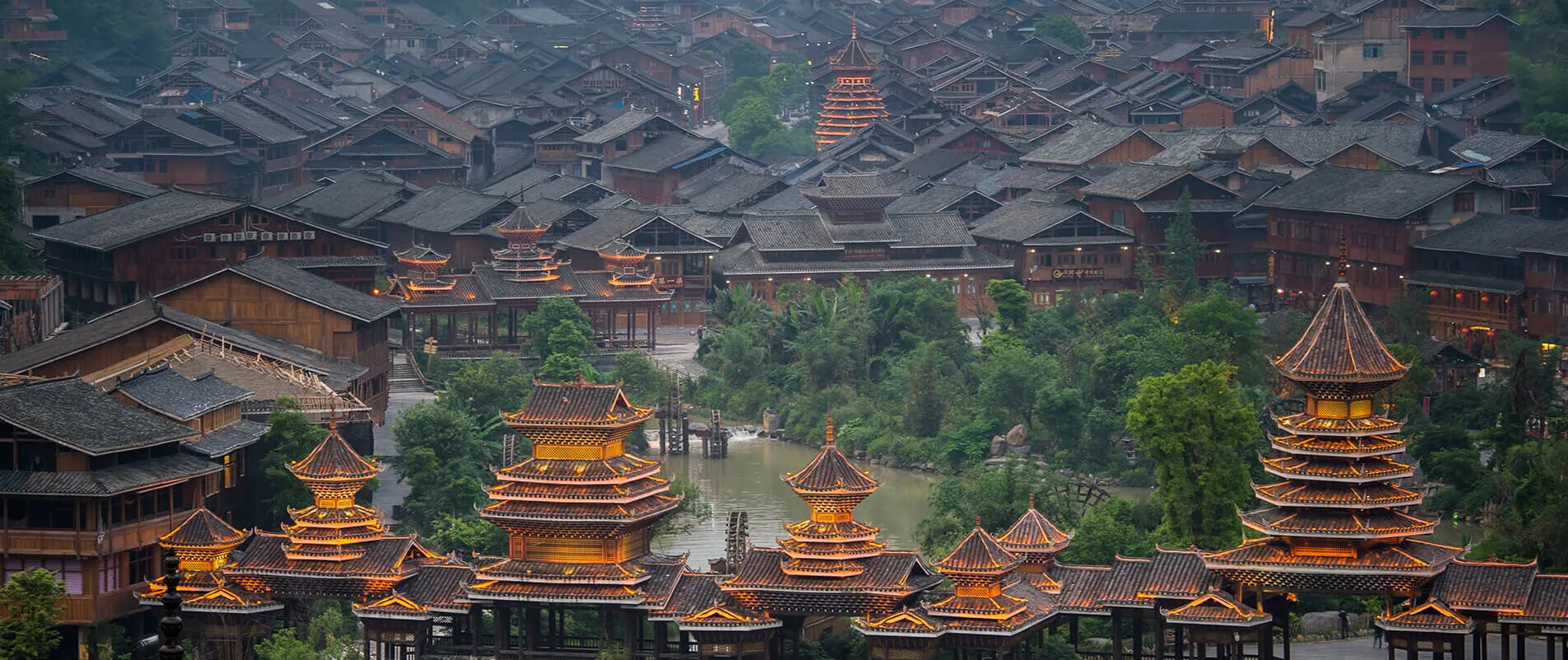 Home
Guizhou Photography Tours
Guizhou is a Miao minority culture and landscapes mixed destinations for photographers. It gets popular and popular for domestic photographers, but very few foreign photographers visit here so far.
What to photograph in Guizhou?
Miao & Dong minority villages
Zhaoxing Dong village - 3 hours drive from Guilin, one of the largested Dong villages in Guizhou area. Less tourists visiting here, and well organized architectures are all good things for photography, especially the night photography (the scene on the banner photo).
Xijiang Miao village - the largest Miao village in China. Extraordinary night view than you can imagine. Lots of chances for Miao people portraits photography.
Basha Miao village - the last Gun-Toting tribe in China. Around 2 hours drive from Longji rice terraces. Experience the traditional hair cut, shave by a sickle; and gun show in the square.
Guizhou tribe festivals and minority interaction
Ancient technology of papermaking in Shiqiao Miao village.
Sisters' Meal Festival - The ceremony is simple, unsophisticated, and distinctive. Young Miao men and women, dressed in festive attire, gather in the Miao villages. It has been called "the oldest oriental Valentine's Day".
Lusheng Festival - Experience the most interesting festival for Miao people, all people dress up, dancing and playing reed instuments in the village, it lasts 4 days every year. High chances to capture the different Miao people decorations in one place.
Guizhou Landscape Photography
There are many mountains and hills in Guizhou area, mountains always provide lots of opportunities of landscapes and nature photography.
Huangguoshu waterfall has been one of the most famous waterfalls in China; Lipo is named as 'Little Jiuzhaigou'; karst mountains area in Xingyi county - Forest of Ten Thousand Peaks.
Best time to visit Guizhou
It depends what you'd hoped to achieve for this photo tour in Guizhou. Minority people, landscapes or nature?
If you focus on minority people and trible culture, could be any time.
If you expect to capture the landscapes and minority village views togather, the best time could be May to October, less rain and stable weather for high chances of sunrises and sunsets shooting.
How long do you need in Guizhou?
To explore the most highlights of Guizhou, better to have 7+ days in Guizhou area, visiting 3-5 Miao minority villages, and spending 3-4 days on landscapes capture.
Guilin is a very ideal extension for Guizhou photo tour, if you are thinking of going to Guilin as well, it will be a smart choice to spend 3-4 days in Guilin Yangshuo area.
How to get to Guizhou from Guilin, Hong Kong, Yunnan and other photography destinations?
High speed train is definitely the first choice for you. Wherever you are from or going to.
Guilin to Guiyang | Over 20 trains everyday, it takes about 2.5 hours.
Hong Kong to Guiyang | There is only one direct high speed train from Hong Kong (West Kowloon Station) to Guiyang North Station, G312 (12:06 - 17:38)
Kunming to Guiyang | 20+ trains every day, about 2.5 hours ride.
Besides, it is also very convenient to reach Guizhou by direct train from Beijing, Shanghai, Guangzhou, Zhangjiajie and Chengdu.
Suggested Guizhou photo tour routes (Southeast Guizhou)
Guiyang - Zhaoxing Dong Village - Congjiang - Basha Miao Village - Jiabang Rice Terraces - Kala Village - Kaili - Xijiang Miao Village
Guiyang - Loushang Ancient Tribe - Mount Fanjing - Zhenyuan Ancient Town - Xijiang Miao Village - Kala Village - Zhaoxing Dong Village - Congjiang - Basha - Jiabang Rice Terraces
Suggested Guizhou and Guilin photo tours
Guilin Guizhou photography tours - 4 days in Guilin and Yangshuo area focus on landscapes, cormorant fishermen and rice terraces; high speed train from Guilin to Zhaoxing, spend 4 or 5 days in Zhaoxing and southeast of Guizhou area to explore the Miao minority villages and landscapes.
The suggested photo tour route of Guilin, Yangshuo and Guizhou as following:
Day 1 Guilin: Mirror fields sunrise, old people portraits and sunset over ancient pagodas
Day 2-3 Yangshuo: Landscapes and cormorant fishermen shooting from dawn to dusk
Day 4 Longji Rice Terraces and minority people
Day 5 Zhaoxing Dong minority village
Day 6 Basha Miao minority village
Day 7 Xijiang Miao minority village
Day 8 Guiyang city exloration and departure