How to Get to Guilin
Last updated on June 17, 2022.
Now Guilin can be connected with over than 30 main cities in China via flights and high speed trains, as well as international flights with Hong Kong, Tokyo, Seoul, Bangkok and Kuala Lumpur. The most recommended China gateway cities to Guilin: Hong Kong, Beijing, Shanghai, Guangzhou.
High speed railways are developd so fast in China, more than 30 new railways are opened every year. If transport time is less than 5 hours, I highly recommend you to take the high speed trains intead of flights. High speed trains never delay, clean, much more space inside, larger seats, and your can walk around when you get tired.
How to Get to Guilin from China Gateway Cities
From
To
Recommended Transportation
Beijing
Guilin
Flight (3h)
more than 10 flights a day
Shanghai
Flight (2h45m) or Train (9h)
7 flights a day | only one high speed train
Guangzhou
Train (2h50m)
Departure every 15 min
Hong Kong
Flight (1h25m) or train via Shenzhen
Two flights (same departure time) a day
Shenzhen
Train (3h)
5 trains a day
Take the direct high speed train from Hong Kong to Guilin
The direct high speed train between Hong Kong and Guilin just started on September 23, 2018. It is definitely a good news for those fly to Hong Kong first and then travel to Guilin.
There is only one train every day from Hong Kong or Guilin, and Hong Kong West Kowloon Terminus is located in downtown area.
| Destinations | Train No. | Departure | Arrival | Duration |
| --- | --- | --- | --- | --- |
| Hong Kong - Guilin | G312 | 12:06 | 15:25 | 3h19m |
| Guilin - Hong Kong | G311 | 13:38 | 16:54 | 3h16m |
How to get to Guilin from Zhangjiajie?
Good new!
The direct high speed train from Zhangjiajie to Guilin opened in 2021. The train information is as below:
| Destinations | Train No. | Departure | Arrival | Duration |
| --- | --- | --- | --- | --- |
| Zhangjiajie West - Guilin | D3967 | 07:20 | 14:51 | 7h30m |
| Guilin - Zhangjiajie West | D3968 | 14:42 | 22:15 | 7h30m |
How to Take the Subway from Guangzhou Airport to Guangzhou South Railway Station?
Lots of my customers asked about how to get to Guangzhou South Railway Station from Guangzhou airport, by taxi or subway? The answer is subway, which is the most recommended and convenient transportation, the traffic jam in Guangzhou is very common, it may take 2-4 hour by taxi. It takes about one and half an hour by subway, and always on time.
Following the intruction, you can easily travel between Guangzhou airport and railway station. I wrote down this instruction by my travel experience in this May.
1 Find and follow the Metro sign You can easily find the sign of Metro when you get out from the immigration gate. Follow the sign and find the entrance of metro.
2 Buy the tickets When you get to the entrance, buy the tickets on tickets machine. The easiest payment ways are by Wechat or Alipay, or by Chinese cash, that is, you have to exchange some money first in the airport when you arrive.
3 Take Line 3 After buying the tickets, take the Line 3, it is very easy to find the sign.
4 Off the Line 3 at the stop of Jiahewanggang Jiahewanggang (in Chinese: 嘉禾望岗), it should be the fifth stop.
5 Interchange Line 2 Get off at the last stop, the last stop is just Guangzhou South Railway Station.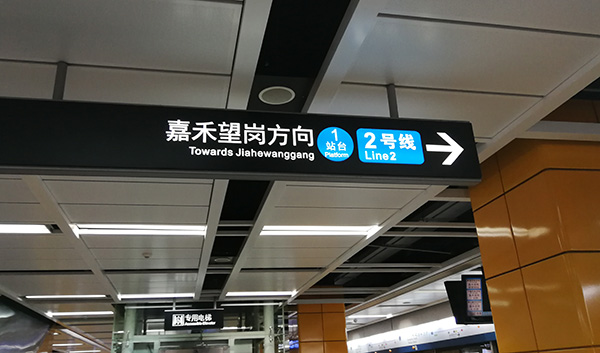 How to Buy Flights or Train Tickets?
There are many English websites can buy flights, Ctrip is recommended.
It is also very easy to buy a train tickets online or download a China Train Booking app on your phone, then you can buy or change the tickets any time. They can deliver your tickets to your hotel or you get it by yourself in any train stations with booking number.
Links