Yellow Mountains are beautiful all year around for photography. April to November is the best time for sunrise and sunset photography. December to next March is the best time for snow scenery photography.
Yellow Mountains have 200+ rainy days a year, the rainy season is normally in June, July and August.
Huangshan (Yellow Mountains) Weather Data by Month
Apr
May
Jun
Jul
Aug
Sept
Oct
Nov
Dec
Jan
Feb
Mar
Min. Temp (°C)
5
9
13
16
15
11
7
1
-3
-6
-4
-1
Max. Temp (°C)
11
15
18
20
20
17
13
8
4
1
2
6
Min. Temp (°F)
41
48
55
61
59
52
45
34
27
21
25
30
Max. Temp (°F)
52
59
64
68
68
63
55
46
39
34
36
43
Rainfall (mm)
135
347
332
218
179
83
88
66
48
55
84
140
Rain days
18
18
18
16
18
15
12
10
9
14
15
18
Humidity (%)
233
273
459
335
305
180
112
83
51
79
112
183
Best Time
Rainy Season
Best Time
Snow Scenery
Why are these months best for Yellow Mountains photography?
From April to May is the spring in Yellow Mountains, all trees will be more green, fresh and tender, best time for pines and stones photography.
The weather is more stable in September to November, and relatively less tourists in November.
December to March are the winter of Huangshan. It snows several times every year. If your dates are flexible, you can check out the weather forecast 5-10 days in advance and choose the right to go. Definetely, you could get many unique shots if you go Yellow Mountains after or in snowing.
Besides, April to June are the tea picking season in Huangshan, it's good time if you are interested in shooting the working farmers in tea plantation.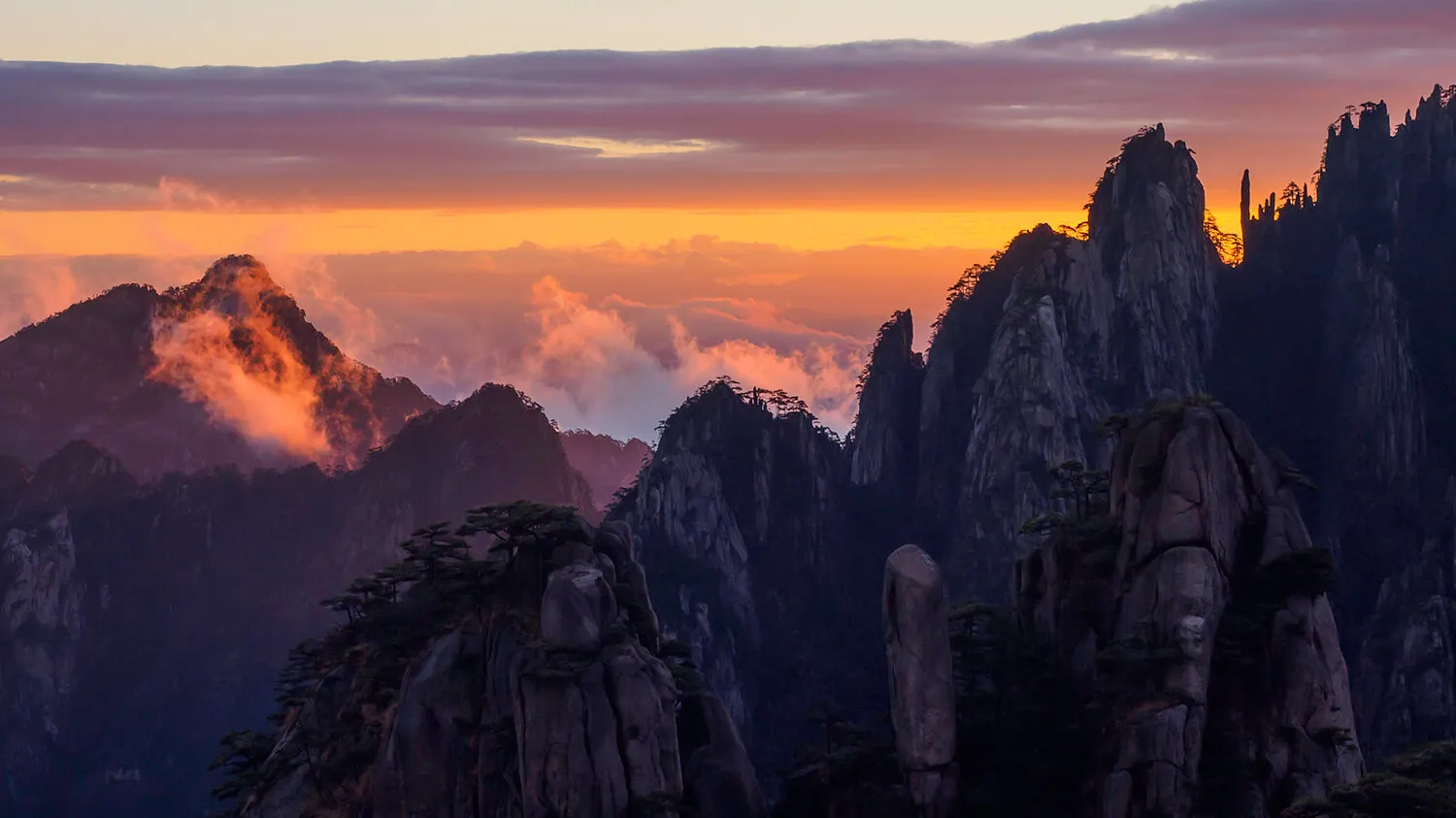 Yellow Mountains Sunrise © Olyodyssey
When is the best time for sea of clouds photography?
Yellow Mountains has almost 250 days of fog a year, and the weather changes fast and frequently, it might be very sunny in the morning, but heavy fog even rain in the next hours.
There is a high possibility of sea of clouds from September to next May because of the temperature difference between day and night, especially on a clear day after rainy or snowy weather. Less sea of clouds in summer (June to early September).
It is possible that nothing can be seen in mountains, sometimes it may last for 2-3 days.
It is challenging, meanwhile, it is also the chances for unexpected great shots, because it has almost 50 days that you can see the sea of clouds over mountainside.
I went Yellow Mountains several times, I saw the sea of clouds every time, and only 2 times had beautiful sunrise and sunset.
Don't be upset! It is also the great opportunity for time lapse photography, I did it every time, and stayed at one spot for at least one hour.
Our photo guides will adjust the itinerary according to the weather changes and the height of clouds. Try different routes and photography spots to best experience the beauty of sea of clouds.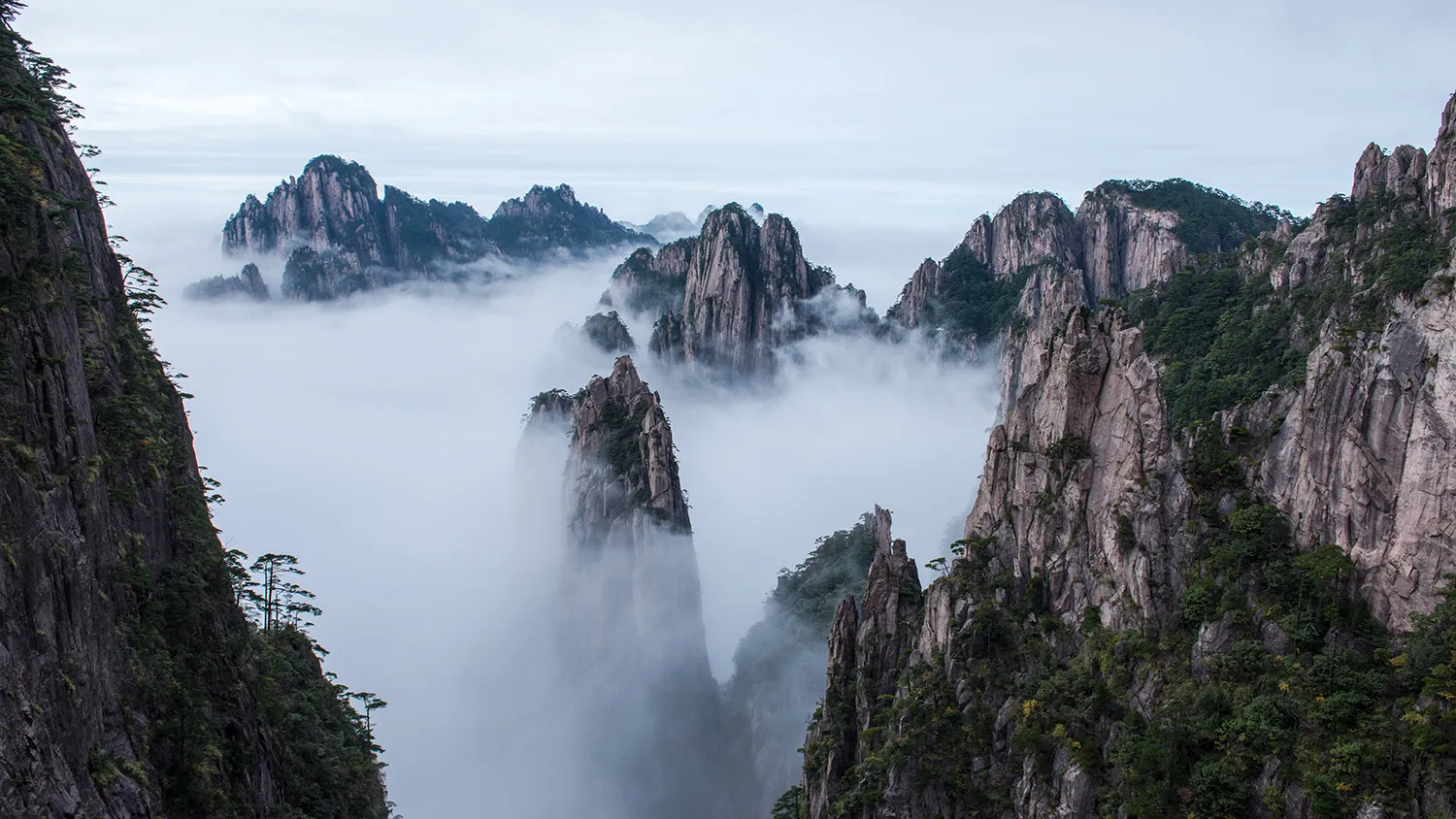 Taken in the middle of October with one of customers from US
When is the best time for rapeseed flowers photography in Huangshan and Wuyuan?
March to May are the season for rapeseed flowers, and the golden yellow flowers can be found around the ancient Huizhou-style villages.
Shitan is a very worthwhile photography spot, it takes about 1.5 hours drive from downtown.
The rapeseed flowers on the high mountains, as well as the sea of ​​clouds and the S-shaped river in Xin'an River in the distance, more possibilities for great shots. However, the road up the mountain is tough and must take the local mini van.
Wuyuan is an ancient village that 40 minutes journey by high speed train from Huangshan.
Rapeseed flowers season in Wuyuan is earlier than Huangshan area because of the climate, February and March are the best time to shoot the ancient village flooded in yellow flowers and the old steam train accossing the flower fields.
Please note that it is also high season for this small village, tens of hundreds of tourists and photographers will be there, it is not easy to find a place to shoot good photographs.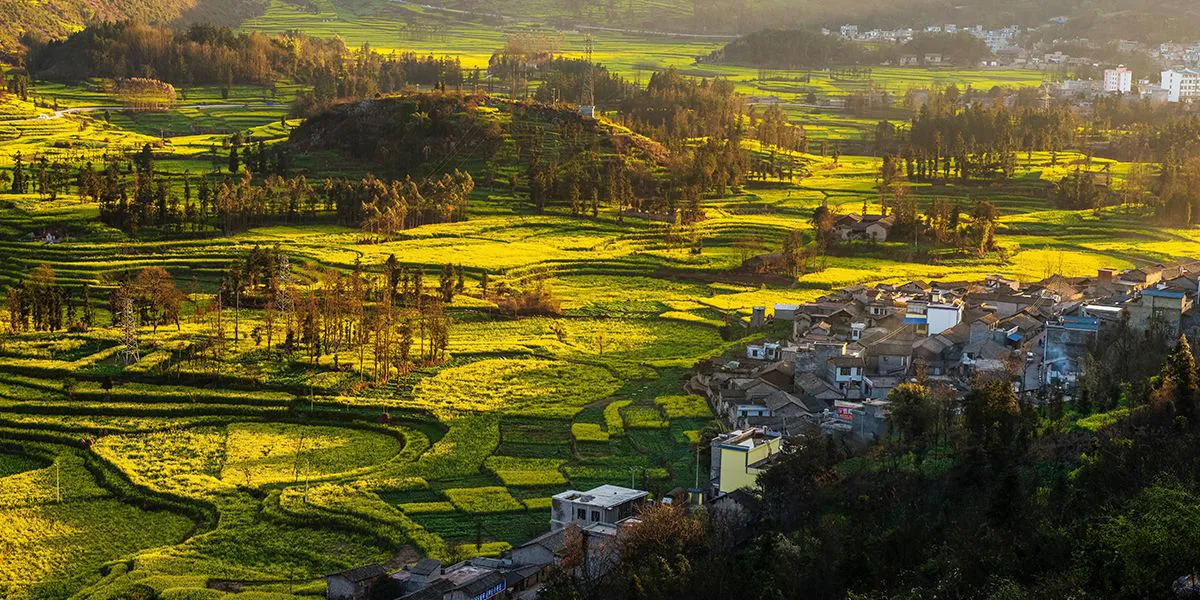 Rapeseed Flowers View in Wuyuan in March
Travel Smart - Dates to Avoid in 2020
In the following time periods, the number of tourists will increase by 5-10 times than usual, and the price of hotels in Yellow Mountains will increase by 50% or even more.
Chinese New Year (January 24-31, 2020): 5 times Chinese tourists coming, the weather is as cold as minus 10 degrees
Summer holiday (July-August): Holidays for all schools, the number of tourists will increase dramatically
National Day (October 1-7): This is the most crazy time of the year, it is not suggested to visit any places in China.
Dragon Boat Festival: June 25-27, 2020
Mid Autumn Festival: Oct. 1-3, 2020
Photographs Taken From January to December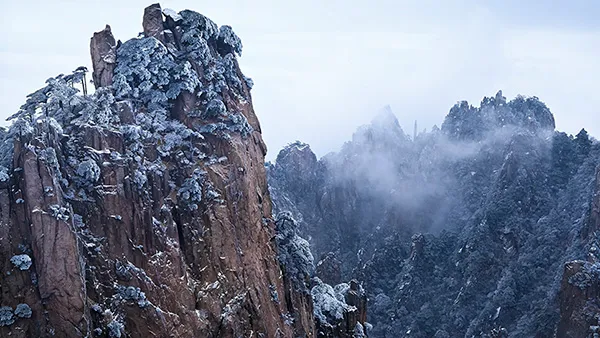 Taken in January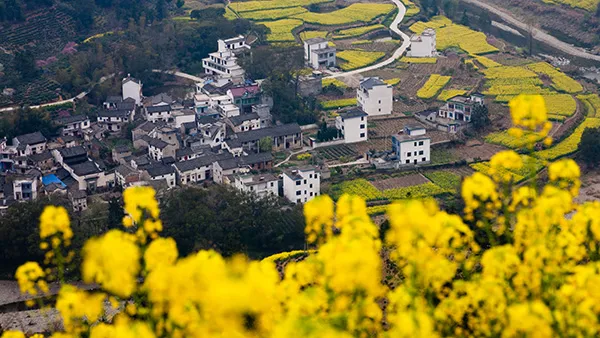 Taken in February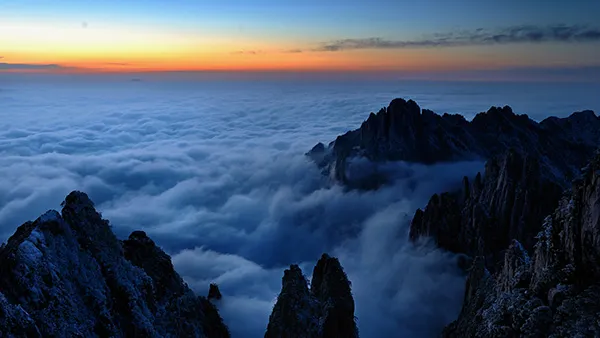 Taken in March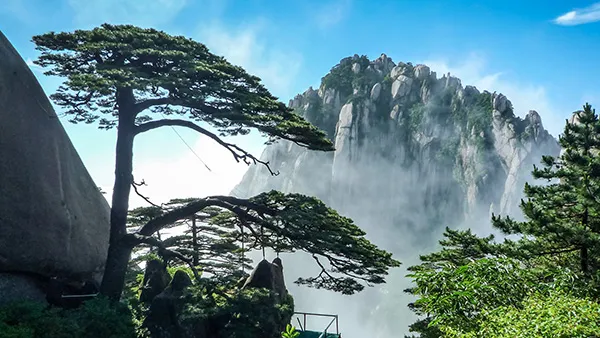 Taken in April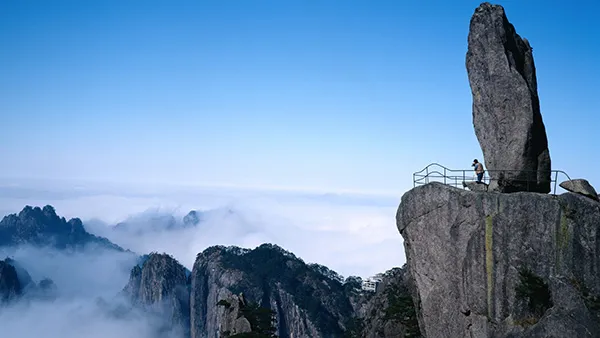 Taken in May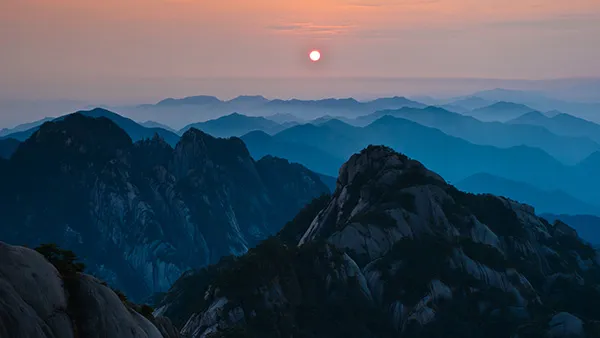 Taken in June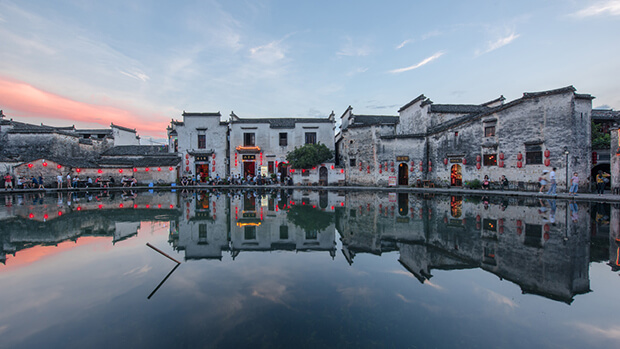 Taken in July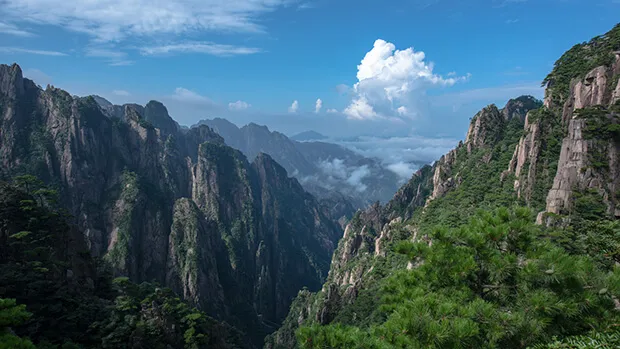 Taken in August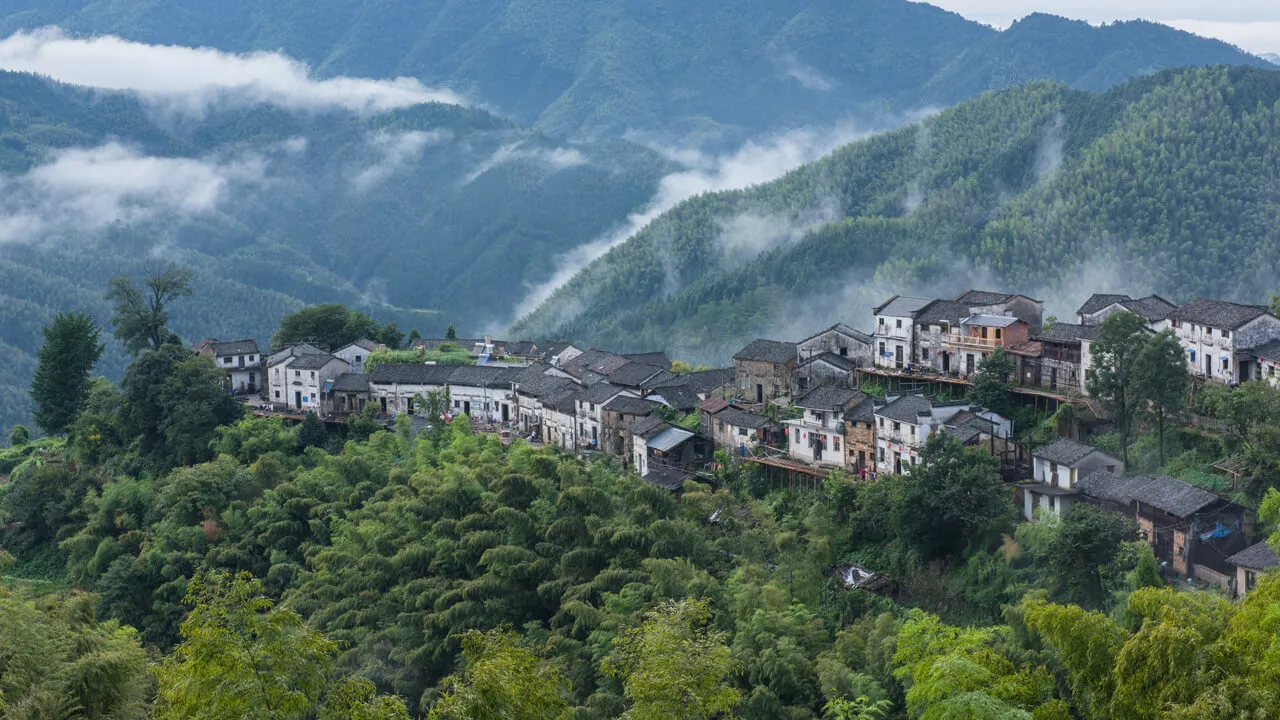 Taken in September
Taken in October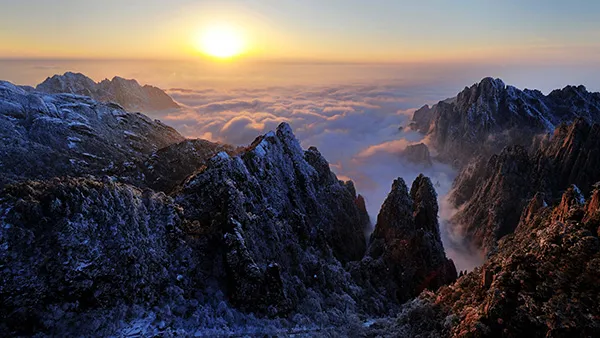 Taken in November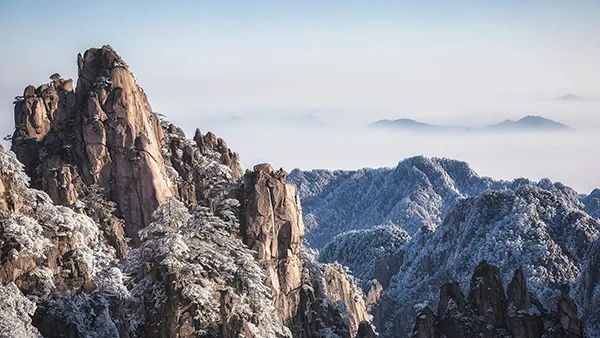 Taken in December