To plan a better Huangshan photo tour and get the photographs that you expect, check out these practical photography information which is from Mercier Zeng's real experiences and some local photo guides who live in Huangshan for 30 years.
#1 What to photograph in Huangshan?
Imaginatively-Named Pines, Oddly-Shaped Rocks rocks and peaks
Sunrise and sunset over rocks/moutain peaks
Sea of clouds
Hui-style architectures and ancient villages
#2 How long do I need to spend in Huangshan?
2 days to 5 days fit well on Huangshan photography tour.
While your dates are flexible, better to spend 4 days in Huangshan. One day in ancient villages, and 3 days 2 nights on Yellow Mountains. This is 80% of my customers' choice.
If you have 3 days, it's worth to spend 2 nights on mountain top, then you will have 2 sunrises and 2 sunsets, and spend half day on ancient villages at last day when you get to downtown.
Just a short stay, let's say 2 days. Focus all your time on mountains.
The weather on mountain top can be tricky, spend more days there, more great shots you will get.
#3 Best time to visit Huangshan
'Yellow Mountains are beautiful all year around'. Yes, it is.
For good sunrise and sunset with beautiful glow, May to October are good time to go.
To shoot sea of clouds, could be any season. I went there a few times, met sea of clouds every time, as Yellow Mountains are in mist for 200+ days a year.
To capture the spectacular snow scenery, better to go in December to March, but it will be very cold, like minus 10 centi degrees.
Find out the best season for best shots in Huangshan and plan the right time to go,
view more here
.
#4 How to Get to Huangshan?
Shanghai to Huangshan, 3 hours by high speed train.
Hangzhou to Huangshan, 1 hour 50 minutes by high speed train.
Guilin to Huangshan, the direct flights are available on every Monday, Wednesday, Friday and Sunday, very good deals all year around.
#5 Best hotels to stay on mountain top
To protect the envirenment of Yellow Mountains, local government strictly control the numbers of hotels on mountain top, only 7 hotels.
Tourists increasing rapidly every year, supply falls short of demand, all room rates on mountain top are USD 200-300 per room (doubel beds), and price will raise 30-50% during holidays.
Here I just listed 3 hotels that I recommended for my customers based on the convenience for photography and westerners' taste.
| Hotel name | Class | Breakfast | Surrounding view points | Good for |
| --- | --- | --- | --- | --- |
| Xihai(west sea) Hotel | 5 star, the best on mountain top | western & Chinese | Dan Xia Peak, the Grand Canyon of West Sea, Begin-to-Believe Peak | sunrise, sunset and sea of clouds |
| Beihai(north sea) Hotel | 4 star | western & Chinese | Begin-to-Believe Peak, the Monkey Gazing at the Sea | sunrise and sea of clouds |
| Baiyun(white clouds) Hotel | 3 star | western & Chinese | Bright Summit, Xihai Grand Canyon | sunrise, sunset and sea of clouds |
#6 How difficult is the hiking?
You will take the cable car up and down the mountains, and tram is available in West Sea Grand Conyon (from the bottom of valley to top of mountain). These are all the transporation in whole Yellow Mountains, you will hike all the rest way.
All view points and photography spots are connected by well-constructed stone steps.
You will hike at least 3 hours, around 3000+ steps every day.
When you change the hotels, you can hire the local porters to carry your luggages and camera gears from one hotel to another, they charge around $20-30 for one luggage.
#7 Sunrise and sunset locations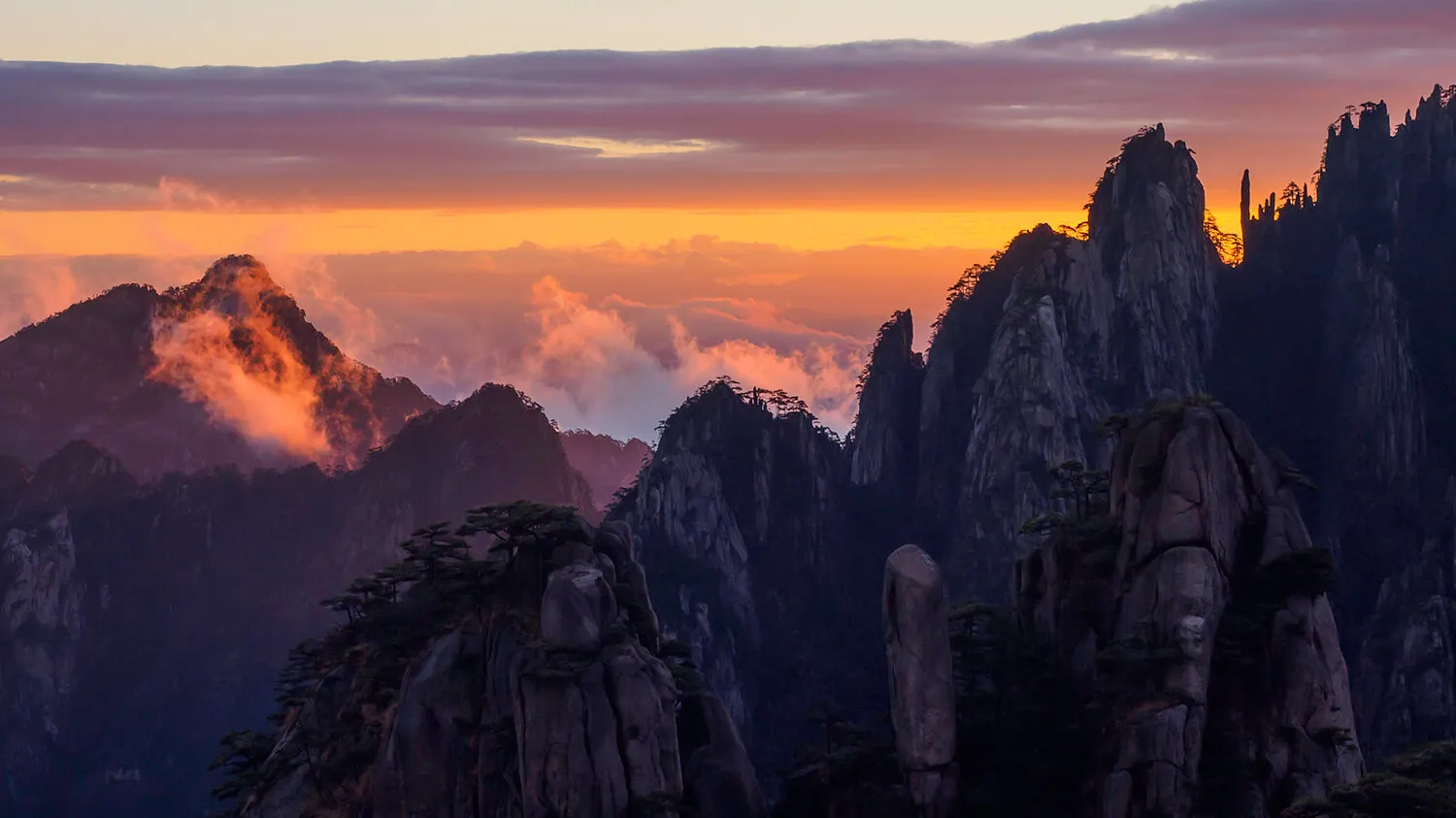 Yellow Mountains Sunrise © Olyodyssey
While there are clouds, glow, and even floating clouds, Lion peak, Bright Summit, Purple Cloud Peak, and Stone Monkey Watching the Sea are good sunrise locations in Spring, Summer and Autumn; Shixin peak and bright simmit are better options for winter.
Without clouds, the wide angle lens is not spectacular enough and lacks in anger. The medium-long telephoto lenses are better for silhouette or sunrise. Gold light will be a very good chance to shoot the rocks or pines.
Dispelling Cloud Pavillion, Danxia Peak, Qunfeng Peak, Flying over rock, Bright Summit, Fairy-walking Bridge near Baiyun hotel are the best spots for Huangshan to shoot and watch the sunset glow.
#8 Sea of clouds
Sea of Clouds near Baiyun Hotel
This thing can't be met by expected. If you meet it, hurry to find a peak to climb up and press your shuttle buttons. Bright Top, Lion Peak, Shixinfeng, Qunfengding, Gongyang Mountain and Lotus Peak are all very good shooting spots for the sea of ​​clouds.
If your aim is to shoot sea of ​​clouds, more chances after snow or rain, and in November.
90% possbility you could expect sea of clouds on the first sunny day after the rain.
#9 Huangshan snow scenery photography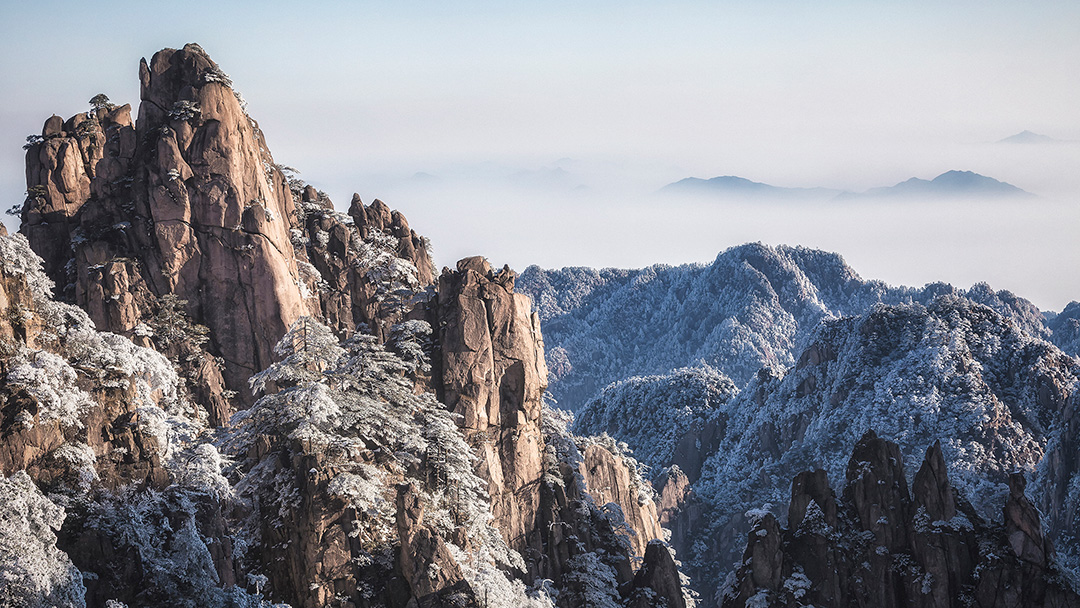 Snow scenery in Yellow Mountains
Snow scenery in Yellow Mountains is another highlight of Huangshan photography tour. Snow time is from December to Feruary, less tourists and cheaper accommodation on mountain top.
The trail down to Xihai(west sea) Grand Canyon is normally closed from December to April 1st because of icy steps and track.
#10 Milky way photography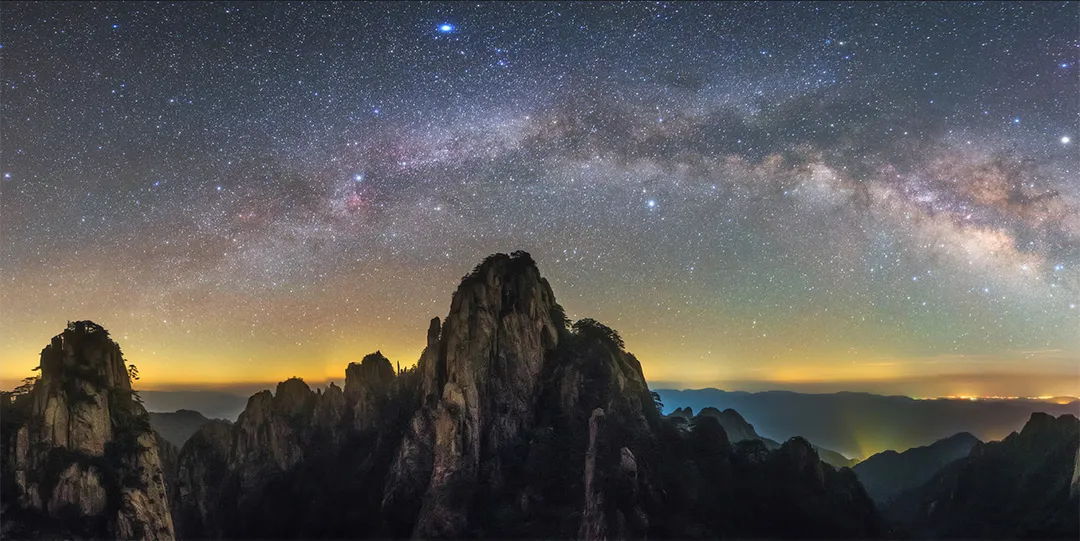 Milkyway in Yellow Mountains © Jeff Dai
There are two good locations for night photography in Yellow Mountains:
The observation deck next to the Flying-Over Rock, taking the Flying-Over Rock for the foreground to shoot the milky way or star track.
The top of the Lion Peak is good for milky way photography as well, and it is more safe to walk at night.
#11 Huangshan ancient villages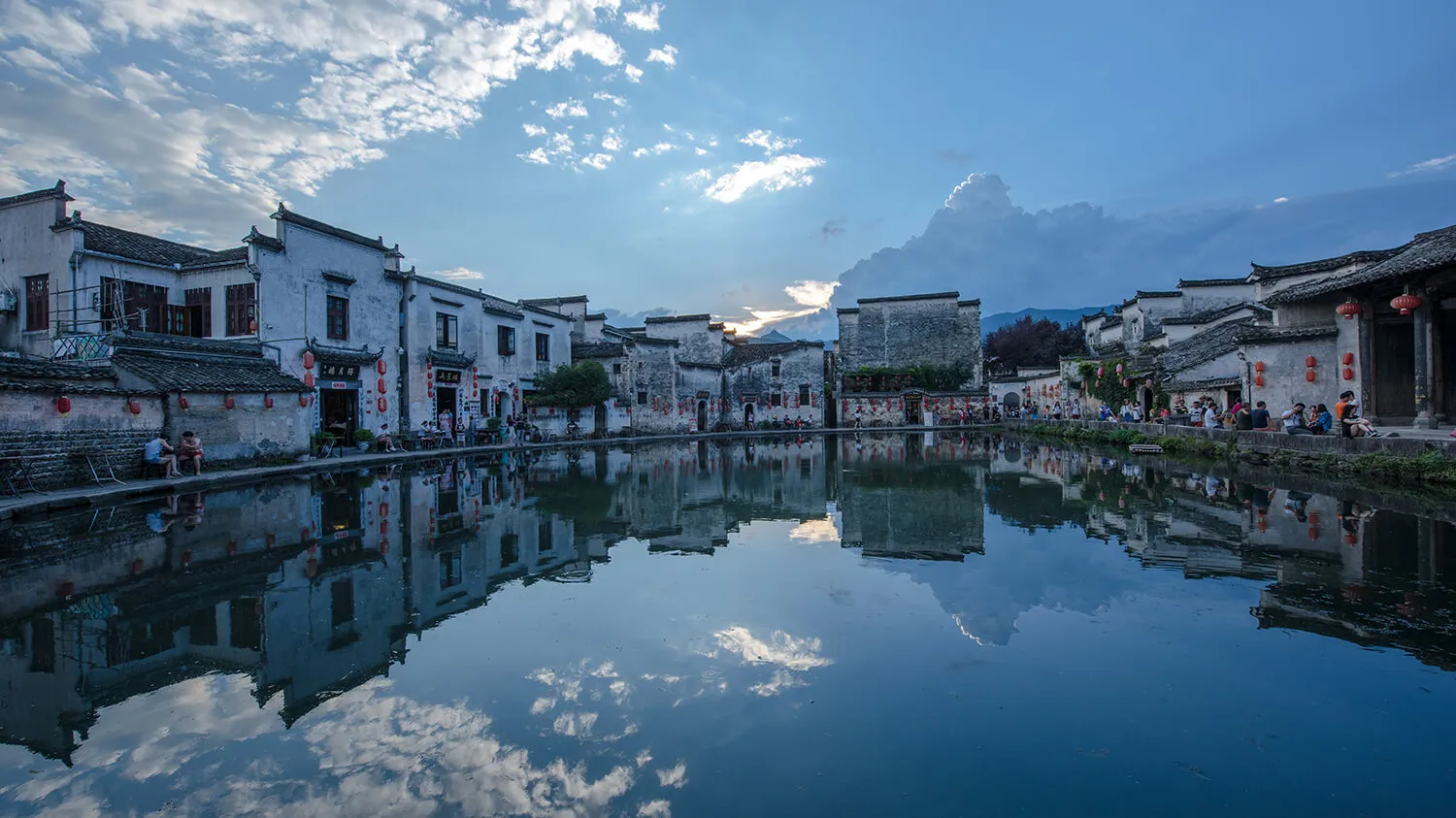 Beautiful ancient architecture reflections in Hongcun
There are almost 10 ancient villages and old residences around Huangshan.
Hongcun and Xidi ancient villages are the most popular ones. Both of them are listed as UNESCO'S World Cultural Heritage Sites.
Hongcun ancient village has been named "a village in the Chinese painting" with 800 years' history. One of the locations for the Oskar-awarded movie "Crouching Tiger Hidden Dragon". It is a perfect place for traditinal houses and reflections shooting at anytime.
There are two pools in the village, perfect place to shoot the ancient architectures and reflections in the pool.
Xidi ancient village is an ideal place to see typical Hui-style architectures where residents have lived there for centuries. It will give you the rare opportunity to explore China's ancient culture and arts of architectures.
Besides, there is a hidden ancient village is also highly recommended - Muligong ancient village, which is the most beautiful alpine village in Huangshan, located at the mountainside, and about one-third time of the year is in mist. The mountain is not open to traffic yet, visitors can only hike up the mountain, compared with other ancient villages, it is quiet and pure, away from the world, there is a sense of detachment.
After the rain, almost 100% possibility that you can expect seas of clouds :)
There is a view point on mountainside, perfect spot to shoot the ancient villages in sea of clouds, see as the following photograph.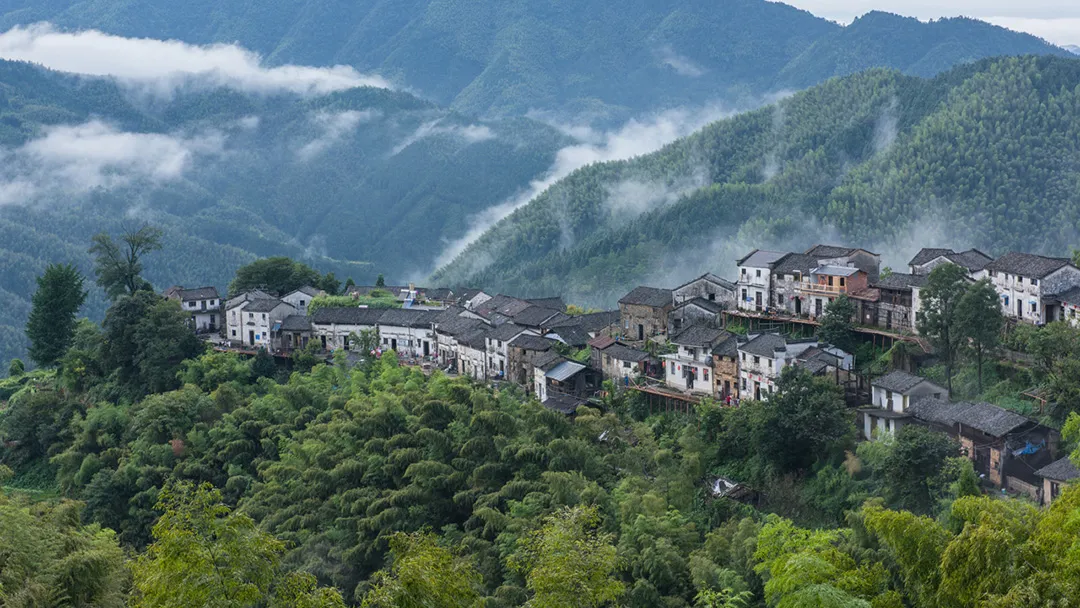 Muligong ancient village in mist