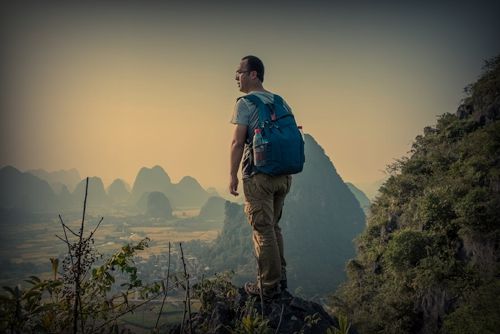 Mercier Zeng's Story
Mercier is working as a marketing manager and webmaster in a very reputable travel agency - China Highlights (www.chinahighlights.com) since 2008, and works in tourism industry for over 10 years, understands customers's need very well. Started to run photography tours in 2014, he was the guide of many world famous photographers, such as Doron Horowitz — the top photographer in Israel, Sarah Wouters — one of the best photographers from Thailand, won the prize of Dubai Hipa photo contest and many other international contest.
He traveled to Vietnam, Thailand, Myanmar and New Zealand for photography in past years.
What Makes Us Different
As a tour guide, I'm familiar with the places; as a driver, I know where to stop and which the right route is; as a photographer, I know when the best time is and where the best positions are. Now to be a photography guide, I can easily catch your interests and make it happen. That's what Mercier Zeng do.
Tailor Make A Unique Trip by Listening to You
All my photography trips are customized depending on your insterets and photography level. You can take things at your own pace. Get up early, stay out late, take time over sight-seeing or dinner – it's up to you. I will make sure you get the trip that you expect.
We Are Happy to Start at 3am
We are photographers, we love photography like you, we guided photo tours over 5 years, some of us work as a photo guide for almost 10 years. We are happy to start at 3am to get the best sunrise location, and get down the mountain at 8pm to capture the blue hour light.
Our selected licensed drivers never complain on starting early or getting back late.
Private 1-1 Photography Guiding
We provide 1-1 private photo tours only, we never set you in a group and share the limited unique places. Mercier Zeng will answer all your inquiries directly to avoid misinformation and sales routines.
Local Expert Knowledge
We take you to places even no guidebook mentions – and make sure you take the big name sites without the big crowds. You would experience the true flavor of the places and people, backed by the highest quality service.
We know where the best photography spots are and when the best time is to visit these places; when the local minority celebrations happens, when local people farming ducks and buffolas, and more than you expect.
Clear Pricing - No Hidden Costs, No Commissions
We charge almost half of foreign photography agencies, we put more photogenic sessions into a day itinerary that's possibly the 2 day's activities for normal tours. We don't go to tourist spots and any shops, absolutely no any hidden costs or commissions, we hate cheating as you do.
Meet Our Photography Guides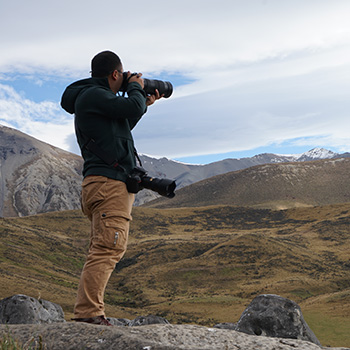 Mercier Zeng
Founder, Photography specialist
He uses Nikon D810, D500 & DJI Mavic 2 Pro
Mercier Zeng is the founder of GPT (GuilinPhotoTours.com) and Mercier Zeng Photography Tours (MercierZeng.com), he also works as the marketing direct of We Are Guides which is a free tour guides listing platform. With over 10 years of tourism industry experience, he is in charge of website interaction, marketing and conversion stuff. Started to do photography tours since 2014, designing and guiding 100+ photo tours every year.
We were not considering going to the Guilin & Yangshuo area until we seen Mercier on tripadvisor. We checked out his website with his amazing pictures and booked with him for several days. He is very prompt to return our e-mails, speaks excellent English, always on time to pick us up, and we were never rushed. John from US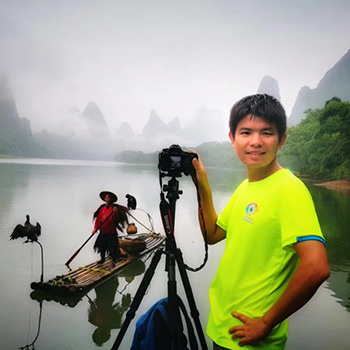 Jack Chou
Photography Specialist
He uses Canon 6D
Jack loves photography and works as photo guide since 2010, who lives in Yangshuo for almost 10 years, and he is familiar with every village of Yangshuo, built the good relationship with local cormorant fishermen and people who lives in the ancient towns.
Jack was everything I could have hoped for - very knowledgeable, helpful, and really dedicated to helping me get the best photos possible. Jack knew the best places to shoot from and advised me on camera settings, where to stand, and what angles to use. Liz Meade from US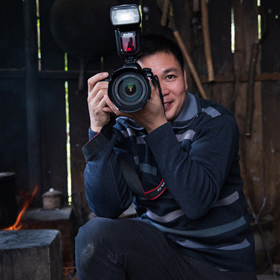 Top Gao
Photography Specialist
He uses Canon 5D Mark IV
Gao works as a photographer guide for 5 years, he likes to take people portraits very much, guided photo tours to minority villages over one hundred times, he knows the minority people and minority celebrations very well. He helped photographers from all over the world to get some remarkable shots.
We had a terrific time with Top who was absolutely fabulous. Besides Top's professionalism – both in terms of photography and tour guiding, his patience with our family and guidance with photography were greatly appreciated. David from AU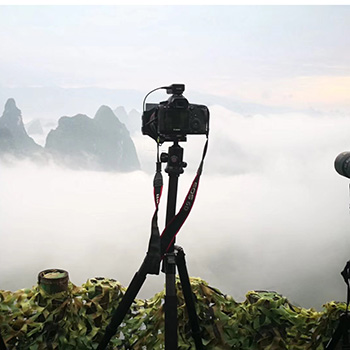 Kevin Lee
Photo Guide
He uses Canon 6D
Kevin is an experienced photo guide and the driver as well. He is a native Yangshuo local. Besides his hometown Yangshuo, he also drove photographers to many other destinations: Guizhou minority area, Zhangjiajie, Fenghuang ancient town even Beijing, which is over 2000+ KM away from Guilin.
Kevin was our guide and he was helpful, patient and just all around fun to hang with. We would highly recommend this tour to anyone interested in photographing the beauty of Guilin and Yangshuo. Sharon from US
Explore Mercier Zeng's Hometown
I was born in north of China, my hometown is in Loess Plateau. My friends can't believe that when I told them my family still live in cave dwelling, and they can't imagine what the cave dwelling is, can you? Cave dwelling is the unique construction and very popular in northwest of China, especially, in Shaanxi, Ningxia and Gansu province.