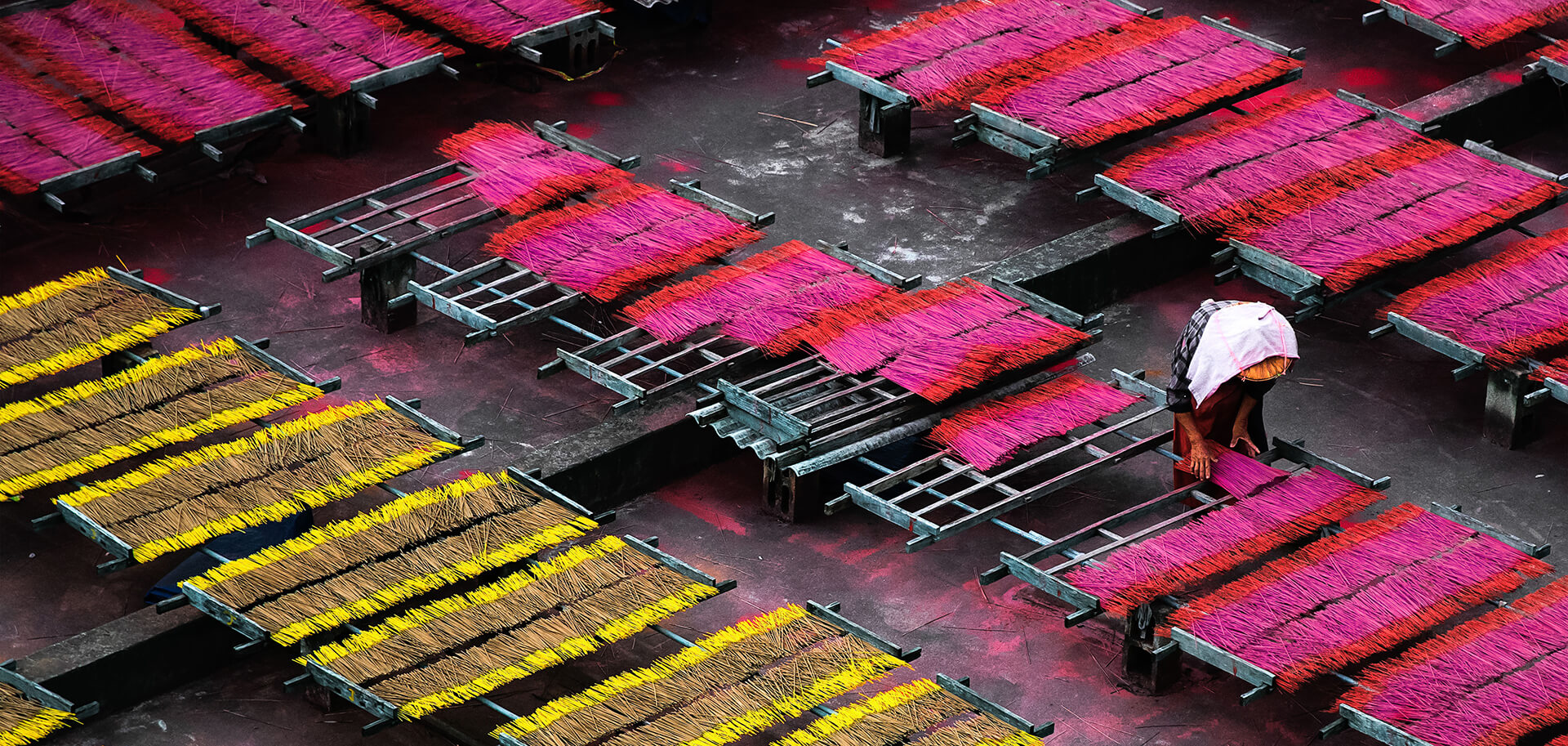 Xiapu & Fujian 2024
A photographic trip of people and culture in Fujian province.
This photography workshop presents numerous opportunities to capture the stunning moments of mudflats and immerse oneself in the local culture to create breathtaking photographs of the people and their unique way of life.
The tour starts in Xiapu and finishes in Quanzhou.
Destinations

Xiapu, Hui An, Quanzhou

Duration 6 days, 5 nights
Group size Less than 6
Date June 17-22, 2024
Sept. 03-08, 2024
Fitness level Easy
Drone friendly Yes
A taste of what to expect…
Day 1-3: Xiapu Mudflat Exploration
Upon your arrival at the Xiapu train station, you will be greeted and transferred to the hotel for a delightful welcome dinner with Mercier and other participants.
In Yangjiaxi, you can capture the stunning scenery of a farmer couple with their buffalo under a big banyan tree, basking in the sun's warm glow shining through the branches and leaves.
You can also photograph the locals collecting, hanging, and drying seaweed in a village, showcasing their traditional way of life.
At sunrise and sunset, you'll get the chance to capture the mudflats and local farmers returning home in the golden light, creating an incredible backdrop for your shots.
You will also have the opportunity to take indoor portraits of a girl weaving in her family-owned private museum with natural light, an 80+ years old grandma cooking on traditional hearth, and a local woman repairing nets in a spacious, empty house.
Apart from these, there are many other photogenic spots in the area that will fill your memory cards with fantastic images that will be sure to impress.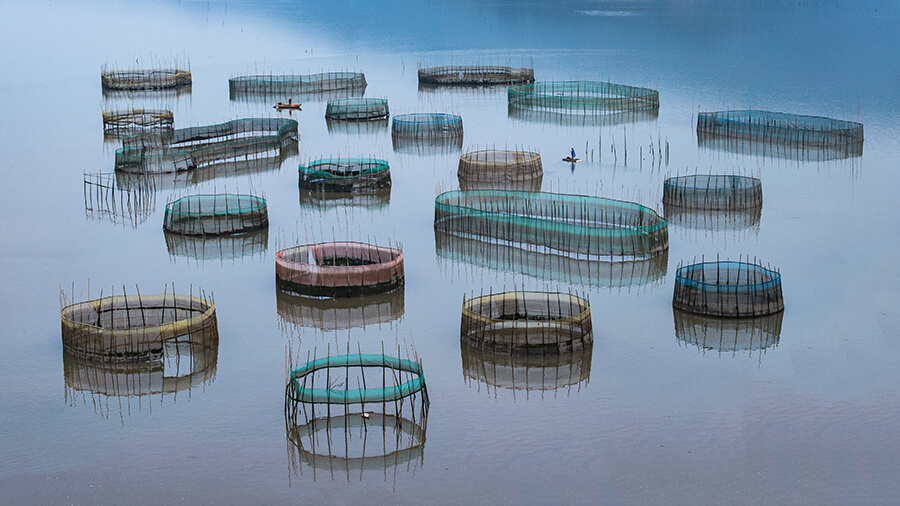 Day 4: Hui An
Before heading to Hui An, we will make a stop in Fu An County where you can capture the locals drying long line noodles on bamboo holders.
Once we arrive in Hui An, you can discover the daily lives of Hui An women, capturing moments such as them dressing up, fixing nets on mudflat rocks, and farming on salt fields, among others.
During the visit to a local ancient house, you will also have the opportunity to take indoor portraits of the locals, creating a diverse collection of photographs that will allow you to document the unique culture of this area.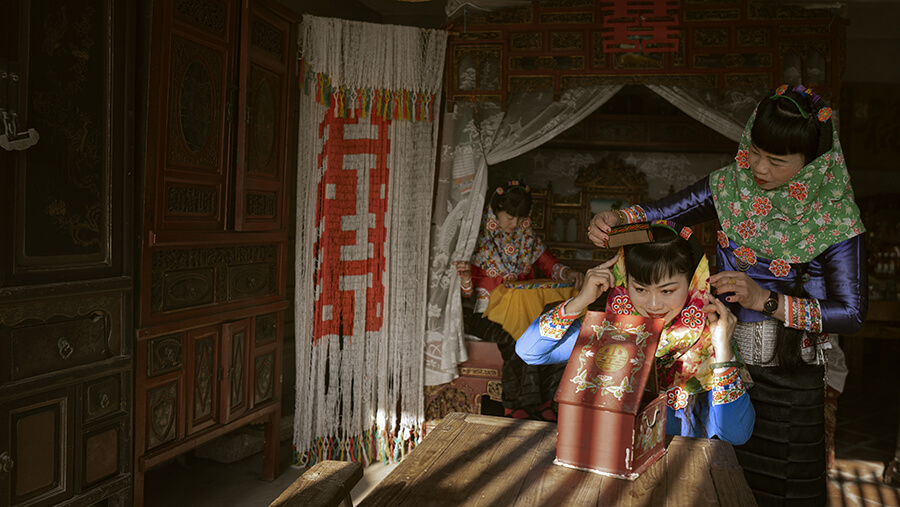 Day 5-6: Quanzhou
In Quanzhou, you will have the chance to photograph the Xun Pu women, also known as fishing women, who are famous for their colorful dresses and elaborate head decorations. Capturing their unique attire and cultural practices will provide a glimpse into the fascinating lives of the locals.
One day will be spent in Yongchun, where you can photograph the locals making and drying incense, a truly spectacular sight to behold.
Finally, take the train to Xiamen and depart for home, with a memory card full of fantastic photographs that capture the beauty and culture of the region.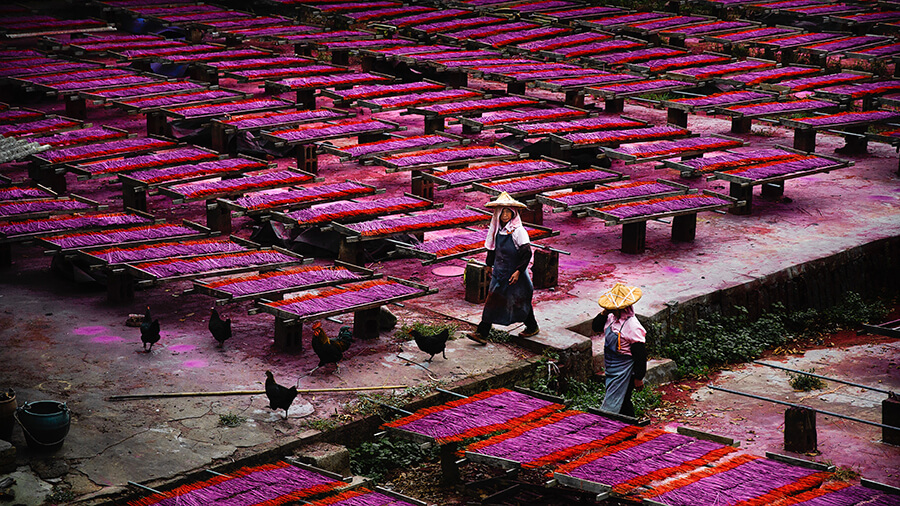 Trip
Notes
What's included?
Photography guide + local professional
Private van transportation
5-night accommodation (5-star or best in local)
Inclusive entrance fees to photography locations
Personalized processing instructions
Complimentary Fresh Coffee for Early Morning Outdoor Shoots
Pick-up from Xiapu Railway Station & Transfer to Quanzhou Railway Station
What's not included?
Arrival and departure flight/train
Travel insurance
Meals (lunch & dinner)
Gratuity for guide and driver if satisfied
How many people can be accommodated in the group?
Max. number of participants: 6 | Min. number: 3.
What is the accommodation situation like?
Participants will be accommodated in the best local hotels, with single occupancy provided.
The price per participant – USD $2250 for single occupancy | USD $2100 for shared occupancy
What kind of gear should be brought along?
To ensure a smooth photography experience, it is recommended to bring two cameras, one full frame body with a regular lens and one half frame for a zoom lens, to avoid time spent on lens changes.
A 24-70 and 70-200 lens are necessary for sunrise, while a 70-200 lens is more useful for sunset photography. Additionally, a primary lens with a big aperture (1.4 or 1.8) is recommended for low-light indoor photography.
A tripod is necessary and at least two will be provided as backup. If you are concerned about the weight of your luggage, you can bring only your ball head and use it on one of our tripods. It would also be great if you could bring a mini tripod for your mobile phone to capture time-lapse footage during the tide.
Polarizer filters and ND filters are not required for photography in Xiapu.
Booking Policy
Deposit: To reserve your spot, a non-refundable deposit of USD 600 is required.
Full Payment: is due 40 days before the tour begins and can be made via PayPal, Alipay, or Wechat.
Refund Policy:
- If you are able to find a replacement, a full refund will be issued.
- Cancelling under 30 days before departure grants a 50% balance refund.
- For cancellations between 30 and 15 days before departure, a 25% refund will be given.
- Cancellations made less than 15 days before departure are subject to a 10% refund
- Please note that the initial deposit will be retained
Instructor: Mercier Zeng
Having years of experience, Mercier Zeng has designed the itinerary for the workshop and will personally lead it.
Mercier has earned over 100 excellent reviews on Trip Advisor after guiding more than 300 photographers from various parts of the world. He has even accompanied some photographers on multiple occasions to Guilin, guiding them since 2014 and helping them capture portfolio-worthy shots, regardless of their level of expertise.
In order to better understand the needs of photographers, Mercier has also traveled to several photography destinations overseas, including Myanmar, Vietnam, Thailand, and New Zealand.
Hi there!
I'm glad to meet you in Xiapu
Come join the tour custom-designed by Mercier Zeng and bring great shots home together!